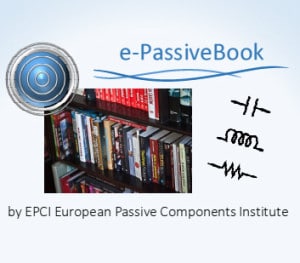 ---
e-PassiveBook
is an on-line electronic
Passive Components Handbook
handled by the European Passive Components Institute. The basic database has been created by digitalisation and editing of the P-O.Fagerholt's famous CLR Passive Components Handbook.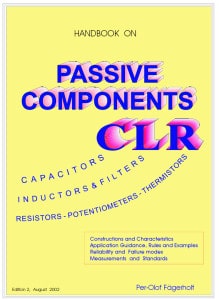 The next target is step by step review the content and update it in order to reflect the latest stage of the industry and technology. 
See About for more details on the initiative.
The mission of the e-PassiveBook is to become the favourite up-to date tool for the industry specialists, component & reliability engineers, circuit designers, graduate students and all supporters of the passive component industry.
CONTENT

(pages under construction)



Chapter A
APPLICATION GUIDELINES
this section will provide a short, overview guideline on passive components use in certain applications.
Chapter B
SIMULATION & MODELLING
This section will provide an overview of simulation & modelling of passive components
Electrical Simulation
Mechanical Modelling
Thermal Modelling
CONCEPTS AND DEFINITIONS

ELECTROSTATIC / NON-ELECTROLYTIC CAPACITORS

ELECTROLYTIC CAPACITORS

VARIABLE CAPACITORS

MATERIAL/TYPES CHARACTERISTICS DATABASE
Chapter R
RESISTIVE COMPONENTS
CONCEPTS AND DEFINITIONS
WIREWOUND RESISTORS
NON-WIREWOUND RESISTORS
POTENTIOMETERS
NON-LINEAR RESISTORS

MATERIAL/TYPES CHARACTERISTICS DATABASE
Chapter L
INDUCTIVE COMPONENTS AND FILTERS
INDUCTIVE CONCEPTS, QUANTITIES, DEFINITIONS
INDUCTORS AND FERRITES
FILTERS
Chapter T
TESTING AND RELIABILITY  
TYPE TEST – QUALIFICATION – QPL
FAILURE RATE AND ESTABLISHED RELIABILITY (ER)
SOMETHING ABOUT QUALITY – AQL – LTPD – PPM
VIEWS ON COMPONENTS FOR DIFFERENT ATTACHMENT METHODS
SURFACE MOUNT DEVICES /smd) / CHIPS
INTEGRATED COMPONENTS
Chapter G
GENERAL CONCEPTS     
ABBREVIATIONS
E SERIES / TOLERANCES / R SERIES
MARKING / DESIGNATIONS
TEMPERATURE DEPENDENCE
THIRD HARMONIC ATTENUATION / NON-LINEARITY
LIFE LAWS
DERATING
BURN-IN
STABILITY
TYPICAL VALUES, MAX, MIN AND s LIMITS
Chapter P
POPULAR TECHNICAL PRESENTATIONS
FROM TABLE TO DIAGRAM
BASIC CONCEPTS
Charge, current and capacitance
Hydrodynamic analogy of the capacitor (C)
Alternating current (AC) generator analogy
Hydrodynamic analogy of the resistor (R)
Hydrodynamic analogy of the inductor (L)
Graphical addition of voltages