SYMPOSIUM LOCATION

Brno University of Technology
Faculty of Electrical Engineering and Communication (FEEC)
Technická 2848/8
616 00 Brno, Czech Republic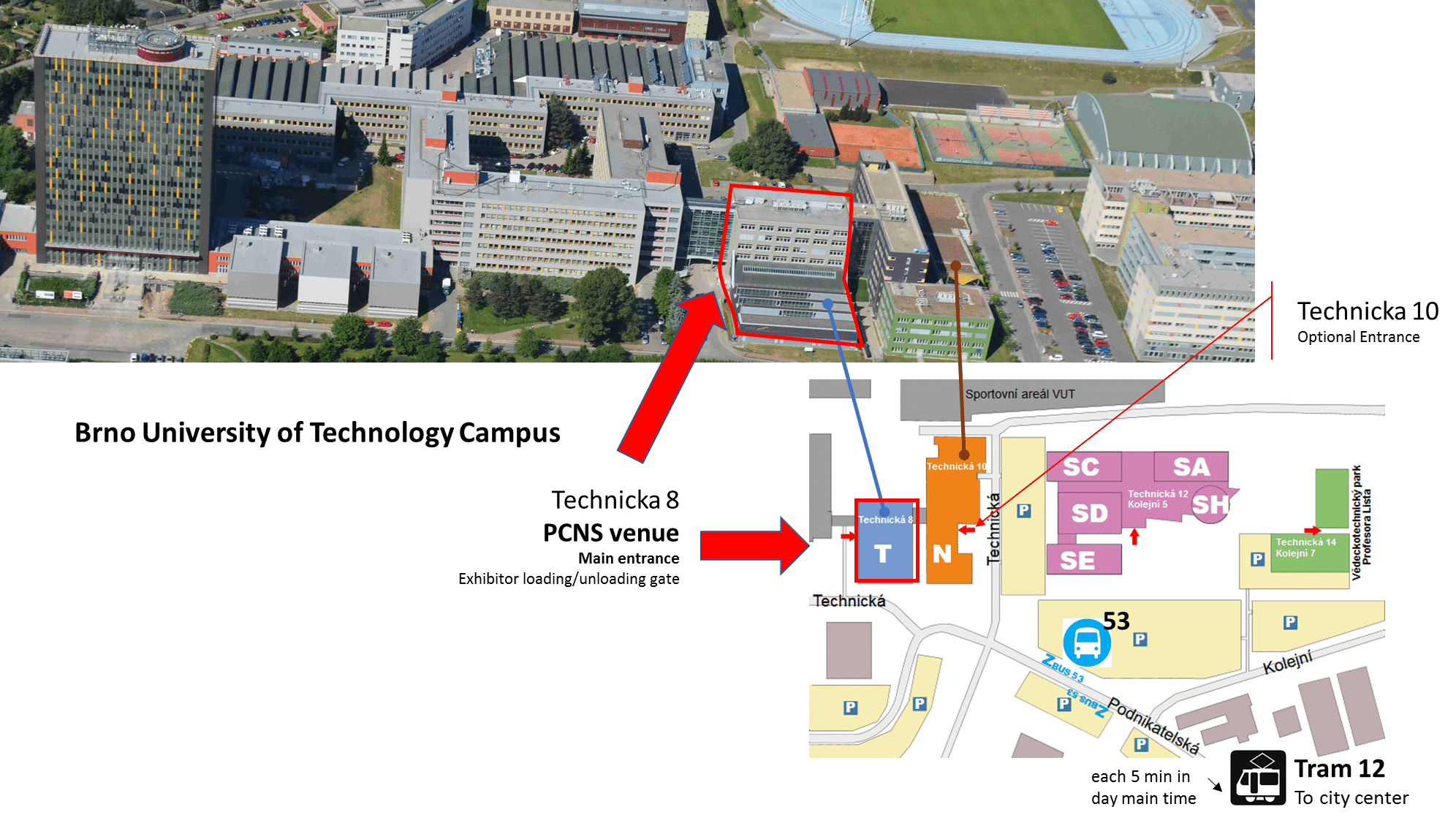 How To Get There
Brno is a second largest city in the Czech Republic. There is a local airport with some limited connection to European cities.
The next close airports with wide Europan and International connections are Prague and Vienna. It is possible to comfortably travel from Prague or Vienna by bus or high quality trains that are typically running every half an hour during a day. The travelling time is about 2 hours from Vienna and 2.5hours from Prague.
You can book your travelling tickets (also online) from/to Vienna and Prague at:
PCNS Coach BUS
Complimentary coach bus is organised for PCNS attendees between the city center hotels and the BUT campus.
pick up time:
13.9., 14.9., 15.9.:
8:15 Hotel International Best Western Premier
8:20 Hotel Continental
Return:
13.9.: 20:00 after Welcome Drink
14.9. Gala Dinner transportation bus coach will pick up attendees at the PCNS at 17:00 and return to Brno hotels around midnight
Note:  Tram No.12 is running each 5 min in daily hours between the city center and BUT campus
ACCOMODATION / Recommended Hotels
PCNS booked rooms with discount rate at the hotels below
Please register directly at the hotel with a booking information from PCNS registration
The discount rate is valid for 11 to 15th September 2017
The rooms has to be reserved by 11th August 2017
Number of rooms are limited, and availability is not guaranteed
AFFORDABLE COMFORT *** (within a walking distance): Pension Edison
discount rates:   single room – 50 EUR/1 night incl. buffet breakfast
                             double room – 62 EUR/1 night incl. buffet breakfast
notes: - small hotel with limited number of rooms
**** HOTEL CONTINENTAL#: Hotel Continental
discount rates: single room – 52 EUR/1 night incl. buffet breakfast and wellness entry
                          double room – 70 EUR/1 night incl. buffet breakfast
***** HOTEL INTERNATIONAL BEST WESTERN PREMIER#: Hotel International
discount rates: single room – 85 EUR/1 night incl. buffet breakfast and wellness entry
                           double room – 105 EUR/1 night incl. buffet breakfast and wellness entry
Notes:
prices are not fixed in EUR, it may vary slightly by exchange rate
# public transport or taxi 15-20min to the symposium location
# morning pick up bus will be organised at the symposium dates
Welcome to BRNO ! see the city in a timelapse video
See the Local Attractions

Once you are in the Czech Republic, Why not to extend your stay by a day or weekend to explore close places of interest, The Czech Republic or historical Prague capital ? See below some invitations.
We are open to assist you with guided tours for you or your spouse in co-operation with the local travel agencies at the days and days around the PCNS Symposium:
Tour 1 Moravian Karst    
Moravian Karst, just 40minute drive from Brno, is one of the most important karst area of Central Europe. In the area of Moravian Karst, there are more than 1100 caverns and gorges. But only 4 caves of the all number are open to public. There are Punkvevní jeskyně (Punkva Caves) with their underground river – during the cruise you can see there the bottom of the famous Macocha Abyss. Another cave is Kateřinská jeskyně with its unique limestone columns. The Balcarka Cave is full of colorful stalactitic decoration. Sloupsko-šošůvské jeskyně are made by huge corridors and underground gorges.
estimate price for a half day tour: 50,- EUR (incl. entrance fee)
for further details see link here.
Tour 2 Pernštejn Castle   
At the first glance the massive Gothic castle, just about an hour drive from Brno, is a strong and impregnable fortress. Special layout of its sections tells the story of its complicated architectural development. The original core of the castle was built probably in the 13th century. Radical adaptations came in the 15th and 16th century. The castle is one of the best-preserved in our country - its interesting architectonic details will catch the attention of experts, as well as laymen, its mazy connecting passages and narrow staircases will charm both children and grown-ups.
estimate price for a half day tour: 50,- EUR (incl. entrance fee)
for more info about the castle please see the link here