MONTHLY NEWSLETTER



INDUSTRIAL PASSIVE COMPONENTS
HEICO Corporation announced that its Electronic Technologies Group ("ETG") entered into a put option agreement to acquire leading electronic component maker Exxelia.


Bourns Custom Magnetics Product Line is introducing the new Model PCS020 and PCS040 Series Current Sense Transformers.


From July 18 to 24, the European Hyperloop Week took place in Delft and Hilversum, Netherlands (https://hyperloopweek.com). Würth Elektronik is a Gold Partner of the European Hyperloop Week for the second time.


Würth Elektronik introduces a new class of EDLC supercapacitors (Electrical Double Layer Capacitor) with snap-in terminals.


Vishay Intertechnology releases high current, THT through-hole edge-wound inductor IHDM series capable of continuous operation up to 180°C.


Bourns announces three new POWrFuse high-power industrial fuse product lines models PF-G, PF-J and PF-H(Ind).


Würth Elektronik extends its MagI³C next generation VDMM Variable Step Down MicroModules power module family with 36 V version.


Bourns POWrFuse product line is pleased to announce two new series of POWrFuse™ high-speed fuse product families, which are high-power rating industrial fuse links designed to the UL 248-13 standard.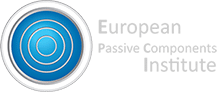 Copyright © 2022 European Passive Components Institute, All rights reserved.