MONTHLY NEWSLETTER



INDUSTRIAL PASSIVE COMPONENTS
Würth Elektronik introduces its WE-BMS signal transformers for battery management systems which, thanks to their galvanic isolation of 4300 VDC/1 min and high operating voltage of up to 1000 VDC, are ideal for use in energy storage systems, E-bikes or E-scooters.


KYOCERA AVX Celebrates the release of its 1,000th TRAFIM series high-voltage power film capacitor for DC filtering applications.


Researchers from Osaka Metropolitan University introduced new 300°C heat-tolerant, high-capacity lithium supercapacitor created with solid electrolytes borrowed from all-solid-state batteries.


The family of MagI³C FISM power modules has grown: Würth Elektronik presents the next generation of 1 W "Fixed Isolated SIP / SMT Modules". The outstanding features of the improved integrated voltage converters include continuous short-circuit protection (SCP) and increased isolation voltage. The nine new modules in standard SIP-4, SIP-7 and SMT-8 packages are pin-to-pin compatible with the previous MagI³C FISM.


Alpha Electronics, a VPG Foil Resistors brand, inaugurated its new foil resistor plant building in Akita, Japan.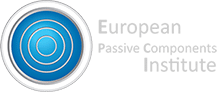 Copyright © 2022 European Passive Components Institute, All rights reserved.