MONTHLY NEWSLETTER



RESISTORS NEWS
TDK Corporation presents the new B58101A0109A* (HP100) series of NTC thermistor based heat pump sensors for measuring the refrigerant temperature indirectly via the pipes' surface temperature.


Electronics Weekly revealed the shortlists for 2022 Elektra Awards, the industry's largest technology and business awards. The award also consists nine nominations in the category of passive electronic components and inter-connects.


Paumanok Inc published market report on Linear Resistors Market Outlook: World Markets, Technologies & Opportunities: 2022-2022.


North America electronic component sales sentiment plunges to lowest level since COVID collapse – more than two years. ECIA has published August 2022 data from its Electronics Component Sales Trend survey (ECST). The indices from August 2022 and Q3 2022 reveal expectations that go from bad to worse as the industry moves through the 2nd half of 2022.


Learn about the aging behavior of resistors using temperature calculations and the Arrhenius equation to understand resistor drift and resistors stability in article written by Dr. Steve Arar and published by All About Circuits.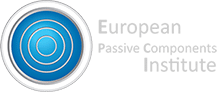 Copyright © 2022 European Passive Components Institute, All rights reserved.