MONTHLY NEWSLETTER



INDUSTRIAL PASSIVE COMPONENTS
Bourns is pleased to introduce the new automotive grade, AEC-Q200 compliant, CRG2512 Series Metal Strip Current Sense Chip Resistors.


Vishay introduced a new resonant transformer for inductor-inductor-capacitor (LLC) applications that features both the transformer and an integrated inductor in a single package.


Pulse Electronics expands its portfolio of high current, low DCR inductors with release of PGL6477 & PGL6478 series.


Skeleton Technologies, the global technology leader in supercapacitor energy storage, will supply supercapacitors to the metro units Spanish manufacturer CAF will provide to the city of Granada, Spain.


TT Electronics announced its TFHP series thin film, high power chip resistors which combines high power and high precision in a single resistor, capitalising on aluminium nitride (AlN) ceramic substrate with nearly six times the conductivity of alumina.


This technical blog article written by Jacky Cui and John Lee, KYOCERA-AVX Components Corporation, explains benefits and use of supercapacitors in enterprise servers and smart meters.


TDK offers now rugged AC filter film capacitors with highest safety approvals (10,000 AFC and UL810).


North America electronic component sales sentiment plunges to lowest level since COVID collapse – more than two years. ECIA has published August 2022 data from its Electronics Component Sales Trend survey (ECST). The indices from August 2022 and Q3 2022 reveal expectations that go from bad to worse as the industry moves through the 2nd half of 2022.


This technical blog article written by Jern Ng, KYOCERA-AVX Components Corporation, explains benefits and use of SMD Thermal Conductors for PCB heat management.


Coilcraft reduces DCR up to 30% on its popular XGL1060 series of ultra-low loss power chip inductors.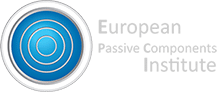 Copyright © 2022 European Passive Components Institute, All rights reserved.