MONTHLY NEWSLETTER



AUTOMOTIVE PASSIVE COMPONENTS
TDK Corporation has announced the introduction of its new VLS5030EX-D type power inductor (5.3 x 5.0 x 3.0mm (L x W x H)) as part of the VLS-EX-D Series of wound ferrite power inductors automotive power circuits.


YAGEO Group, the global leading passive component provider, releases automotive grade thin film, high precision chip resistor – RP Series.


Article by Cristina Belda published by Argus Media summarizes key items from presentation of Tomas Zednicek, EPCI European Passive Components president at T.I.C. general assembly in Geneva on 16-20th October 2022. The new generation of tantalum capacitors will need to provide confidence in a sustainable, conflict-free supply chain, research and development for novel nanomaterial and multi-sourcing to remain competitive and answer the future requirements.


Yageo and other passive component suppliers continue to experience a slowdown in customers orders amid sluggish end-market demand, according to Taiwan industry sources.


Bourns Custom Magnetics Product Line is introducing its Model BA60951CS Low Profile Flyback Transformer ready EV vehicle applications. This transformer is automotive grade, AEC-Q200 compliant and manufactured on a fully automated production line.


Continuing a decline that started in May 2022, the Electronic Component Sales Trend index dropped again as it fell from 86.0 in August to 82.3 in the September measurement.


TDK Corporation presents the B3271*H* series, new EPCOS low self-inductance DC link film capacitors that feature high energy and power density.


Bourns is pleased to announce the extension of the model CSM2F series AEC-Q200 compliant current sense resistor families with additional sensing pins which connect to the customer's PCB by through-hole soldering. The three-pin current sense resistors designs aims to reduce the sensing error.


KYOCERA AVX, a leading global manufacturer of advanced electronic components engineered to accelerate technological innovation and build a better future, has released the industry's first automotive-qualified multilayer varistors (MLVs) equipped with the company's patented FLEXITERM® soft termination technology, which has been widely employed on a number of automotive-qualified multilayer ceramic capacitors (MLCCs) for more than 15 years.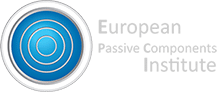 Copyright © 2022 European Passive Components Institute, All rights reserved.