MONTHLY NEWSLETTER



RESISTORS NEWS
This article discuss how to choose current sense resistor value for load current measurements, advantages and disadvantages of sub-milliohm resistors. The article written by Bill Schweber was published by EDN.


YAGEO Group, the global leading passive component provider, releases automotive grade thin film, high precision chip resistor – RP Series.


Yageo and other passive component suppliers continue to experience a slowdown in customers orders amid sluggish end-market demand, according to Taiwan industry sources.


Continuing a decline that started in May 2022, the Electronic Component Sales Trend index dropped again as it fell from 86.0 in August to 82.3 in the September measurement.


Bourns is pleased to announce the extension of the model CSM2F series AEC-Q200 compliant current sense resistor families with additional sensing pins which connect to the customer's PCB by through-hole soldering. The three-pin current sense resistors designs aims to reduce the sensing error.


Researchers from State University of New York at Binghamton reporting in ACS Applied Materials & Interfaces a prototype circuit board with fully integrated electrical components such as disposable resistors, supercapacitors or transistors on sheet of paper that can be burned or left to degrade.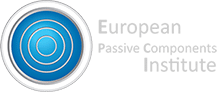 Copyright © 2022 European Passive Components Institute, All rights reserved.