MONTHLY NEWSLETTER



INDUSTRIAL PASSIVE COMPONENTS
TDK Corporation presents the new B78302A* series of compact EPCOS transformers with innovative E5 cores for ultrasonic applications.


Bourns Custom Magnetics Product Line is introducing its new Power over Ethernet (PoE) Transformer Series. The POE-EP, POE-PD and POE-FD Series flyback transformers are rated from 12 to 72 watts and offer an easy and reliable solution for powering remote devices.


YAGEO Group, the global leading passive component provider, releases automotive grade thin film, high precision chip resistor – RP Series.


Coilcraft announced expansion of its XGL series of ultra-low loss shielded power inductors to one of the most popular case sizes 1010.


Continuing a decline that started in May 2022, the Electronic Component Sales Trend index dropped again as it fell from 86.0 in August to 82.3 in the September measurement.


TDK Corporation presents the B3271*H* series, new EPCOS low self-inductance DC link film capacitors that feature high energy and power density.


Skeleton Technologies, the global technology leader in fast charging for transportation, grid, automotive, and industrial applications, is delighted to officially launch its SuperBattery, and to unveil Shell as partner. Skeleton is joining a Shell-led consortium to offer electrification solutions for mining sites.


Bourns is pleased to announce the extension of the model CSM2F series AEC-Q200 compliant current sense resistor families with additional sensing pins which connect to the customer's PCB by through-hole soldering. The three-pin current sense resistors designs aims to reduce the sensing error.


KYOCERA AVX, a leading global manufacturer of advanced electronic components engineered to accelerate technological innovation and build a better future, has released the industry's first automotive-qualified multilayer varistors (MLVs) equipped with the company's patented FLEXITERM® soft termination technology, which has been widely employed on a number of automotive-qualified multilayer ceramic capacitors (MLCCs) for more than 15 years.


KEMET, a YAGEO Group company, announced release of its CHT series of high temperature 260°C SMD Multilayer Ceramic Capacitors (MLCCs).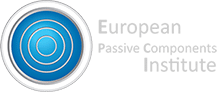 Copyright © 2022 European Passive Components Institute, All rights reserved.