MONTHLY NEWSLETTER



MARKET & SUPPLY CHAIN PASSIVE COMPONENTS NEWS
CAP-XX's supercapacitors combined with Energous' wireless power technology to enable maintenance-free supercapacitor based battery-free IoT devices that do not require battery replacement.


TDK blog article discusses use of power inductors in the electrification of cars including ADAS and EVs.


KYOCERA AVX's new flagship facility in Nakhon Ratchasima, Thailand, features 1.2 million square feet of state-of-the-art design, manufacturing, testing, storage, and distribution space, meets FM Global standards, and features walkable ceilings, full electrical power supply redundancy, and column-free production areas. The manufacturing facility expands the company's ceramic and tantalum capacitors production capabilities.


The KYOCERA AVX team will showcase the company's complete line of trusted and proven component solutions optimized for advanced automotive, industrial, and high-reliability applications, amongst others.


The latest DMASS reports Q3 2022 growth of 44.3% in semiconductors and 14.8% in interconnect, passive and electromechanical components. Selective availability problems remain, future looks increasingly unpredictable.    


While incoming orders continue to normalize, sales of components distributors (according to FBDi e.V.) benefit from a strong summer quarter with 44% growth. Inflation and the weak euro contribute to surge.


The new global MLCC ceramic capacitors part numbering system launching this November will maximize manufacturing synergies within KYOCERA AVX and the KYOCERA Electronics Components Group and make it easier for customers to search the entire brand portfolio.


MLCC capacitor market development indicates that the end is near for the inventory correction period in the Chinese spot market. Despite persistence of weak demand, decline in prices of consumer-spec MLCCs has eased during 4Q22 according to Trendforce report.


Dennis Zogbi, Paumanok Inc. publishes on TTI Market Eye his September 2022 capacitor market lead time and materials update.


Murata Manufacturing Co., a leading Japanese manufacturer of ceramic passive electronic components, particularly Multi-layer Ceramic Capacitors (MLCCs), plans to invest JPY 45 billion (US$305 million) to boost MLCC production capacity in China's Jiangsu province, marking its largest investment, Nikkei reported.


A precipitous drop in sales sentiment for semiconductors dragged the overall component sentiment index down in October 2022 despite modest improvements in the Electro-Mechanical and Passive Component Indices according to ECIA survey on North American electronic component sales.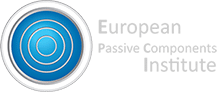 Copyright © 2022 European Passive Components Institute, All rights reserved.