MONTHLY NEWSLETTER



INDUSTRIAL PASSIVE COMPONENTS
Würth Elektronik extends its MagI³C power module family with 74.5 V versions suitable for 48 V Industrial Voltage Network Applications.


NIC Components Corp. is pleased to announce the expansion of the popular NMC-H series of SMD surface mount ceramic chip MLCC capacitors featuring voltage ratings from 200V to 5000V in NPO and X7R TCCs.


Vishay Intertechnology, Inc. introduced a new miniature position sensor with a small 12.7 mm outer diameter that delivers higher accuracy and resolution than competing devices in the same size while offering increased reliability and durability for the harsh operating environments of military and industrial applications.


TT Electronics launches its new WHS-UL high surge, UL-recognised, fusible resistor family.


TDK Corporation presents a new series of EPCOS MKP-Y2 film capacitors for interference suppression at high-temperature requirements.


The article written by Dennis M. Zogbi, Paumanok Inc and published by TTI Market Eye discuss impact of Russia-Ukraine war to materials and passive electronic components supply chain.


Stackpole Inc. releases new addition of four terminal shunt resistors the meet accurate sensing requirements.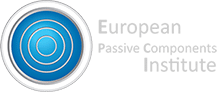 Copyright © 2022 European Passive Components Institute, All rights reserved.