MONTHLY NEWSLETTER



AEROSPACE & DEFENSE PASSIVE COMPONENTS
To meet the needs of military and avionics applications, Vishay Intertechnology, Inc. introduced a new EP2 high energy wet tantalum capacitor that delivers the industry's highest capacitance per voltage rating and case size for this device type.


Coilcraft introduced XGL3520 molded power inductors that offer lowest DC losses and extremely low AC losses for a wide range of DC-DC converters.  Additional performance benefits include a wider range of inductance values and improved Irms current ratings. 


Tecate Group announced the addition of its 3V TPLH™ series of small-cell supercapacitors to its already extensive TPL and TPLH™ 2.7V small-cell supercapacitor offerings.


3D Systems & Airbus Defence and Space create novel 3D printed passive RF space components for first fully reconfigurable satellite.


Dual-use legislation is most commonly associated with pulse discharge capacitors. But it is very possible for high voltage MLCCs over 750V to fall under dual-use legislation even if the capacitor is not classified as a pulse discharge capacitor.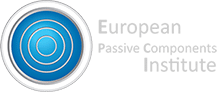 Copyright © 2022 European Passive Components Institute, All rights reserved.