MONTHLY NEWSLETTER



INDUSTRIAL PASSIVE COMPONENTS
To meet the needs of military and avionics applications, Vishay Intertechnology, Inc. introduced a new EP2 high energy wet tantalum capacitor that delivers the industry's highest capacitance per voltage rating and case size for this device type.


TDK now offers PhaseCap Energy Plus PFC power factor correction film capacitors with significantly improved performance.


Stackpole's announced latest addition of HCS high current metal shunt resistors featuring high power, precise sensing and low thermal resistance ideal for hybrid power sources.


Coilcraft introduced XGL3520 molded power inductors that offer lowest DC losses and extremely low AC losses for a wide range of DC-DC converters.  Additional performance benefits include a wider range of inductance values and improved Irms current ratings. 


Skeleton Technologies, the global technology leader in supercapacitor energy storage, and ZPUE, the largest manufacturer of electrical devices for electrical power distribution utilities in Poland, have entered into a commercial agreement to provide energy storage solutions to the Polish market.


Tecate Group announced the addition of its 3V TPLH™ series of small-cell supercapacitors to its already extensive TPL and TPLH™ 2.7V small-cell supercapacitor offerings.


Supercapacitors from Skeleton Technology can assist locomotive batteries during engine start, especially in winter conditions, resulting in less energy being drawn from the battery, and extending battery life.


Bourns Magnetics Product Line is introducing the all new model SRP3212 series mini-molding high current shielded power inductor in a compact size and low profile of 3.2 x 2.5 x1 mm.


Coilcraft releases a 800V high-voltage version of its popular power inductors RFC0807 series that extends its application range in wide range of industrial and automotive applications.


Stackpole released a high-power version of its RMCW series wide terminal thick film chip resistors to improve mechanical robustness, power dissipation and ripple current load capability.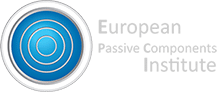 Copyright © 2022 European Passive Components Institute, All rights reserved.