MONTHLY NEWSLETTER



CAPACITORS NEWS
Smoltek Nanotech Holding AB ("Smoltek") announces that the Group company Smoltek Semi AB ("Smoltek Semi") has signed a Memorandum of Understanding (MoU) with a global manufacturer of capacitors for the joint development of Smoltek's ultra-thin CMF-MIM capacitors and, provided that the development goals are achieved, mass production and sales via a 50/50-owned joint venture.


CAP-XX Limited, the leading manufacturer of ultra-thin prismatic and high-power cylindrical supercapacitors, today announced it is expanding its product offering to include Lithium-ion Capacitors (LICs).


The results of June 2022 Electronic Component Sales Trend Survey (ECST) reported by ECIA continue to show positive growth expectations despite strong economic headwinds.


The new KYOCERA AVX component search tool allows users to quickly and easily explore an extensive selection of the company's proven portfolio of antennas, capacitors, circuit protection devices, filters, couplers, and inductors, as well as view and purchase available stock from its authorized distributor network.


Humidity and temperature have always been critical for film capacitors. Jon Rodrigues from Würth Elektronik discusses in this webinar impact of harsh environment conditions to film capacitors.


Team of researchers at Lawrence Berkeley National Laboratory (Berkeley Lab) and UC Berkeley have identified one energy-efficient route – by synthesizing a thin-layer version of a well-known BaTiO3 ceramic capacitor ferroelectric dielectric material whose properties are exactly what's needed for next-generation of microchips.


Murata Manufacturing Co., Ltd. has become the first company in the electronic component manufacturing industry to successfully create a closed-loop recycling system for polyethylene terephthalate (PET) film used in the manufacturing process of MLCC multilayer ceramic capacitors* to follow long-term vision to achieve 100% use of sustainable resources.


High-temperature 150°C MLCC ceramic capacitors are required in the powertrain of internal combustion engines, but also in the EV powertrain systems. Samsung Electro-Mechanics released a technical note to address this application field.


The European Passive Components Industry Association (EPCIA) published its recent newsletter with European (EMEA) market development for passive components from 2019 to 2021.


prof. Sam Ben-Yaakov in his video suggests way of modelling and LTSpice simulation of ceramic ferroelectric capacitors (such as BaTiO3 X7R MLCC most common types) under high DC BIAS Voltage and high capacitor current stress.


Exxelia, a global manufacturer of complex passive components and subsystems for harsh environments, is expanding its CUBISIC low profile hermetic aluminum electrolytic capacitor range with a HTLP (High Temperature Low Profile) version for temperatures up to +125°C.


Quantic Evans is introducing TDB series, newest radial form factor, rugged hybrid tantalum capacitors in a compact 1" X 1" square footprint.


This article written by Dennis M. Zogbi, Paumanok Inc., published by TTI MarketEYE elaborates on impact of copper price increase to MLCC ceramic capacitors and its supply chain.


ESA ESCC Executive publishes a list of components and technologies which have been, respectively, qualified and capability approved to the rules of the ESCC Specification System and the results certified by ESA. April 2022 issue 227 of the ESCC qualified part list has been issued.


KEMET enhanced AO-CAP® aluminum polymer SMD chip capacitor A700 series product offering with the new material setting and manufacturing flow, allowing a specification expansion of endurance life at rated voltage and storage unbiased at 125ºC up to 3000h. 


KEMET is now introducing a new case size (C case) inside the T550 Series, axial leaded polymer hermetically sealed (PHS) tantalum capacitors, offering higher capacitance availability for different voltages rails.


May 2022 sales were the highest for May in the Yageo's history, according to the company data.


The results of the May 2022 Electronic Component Sales Trend Survey (ECST) reported by ECIA delivered a positive sales sentiment in North America in May 2022.


prof. Sam Ben-Yaakov in his video evaluates the effect of MLCC ceramic capacitors case size to its electrical parameters.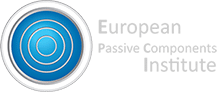 Copyright © 2022 European Passive Components Institute, All rights reserved.