MONTHLY NEWSLETTER



AUTOMOTIVE PASSIVE COMPONENTS
As part of the YAGEO Group and leading global electronic components supplier, KEMET introduces its new SCF-XV series of 1kV AC/DC AEC-Q200 automotive grade common mode choke. This series fulfills the growing need for high voltage automotive and harsh environment industrial EMI filtering applications.


Coilcraft newly introduced mini power inductors offer a voltage rating of 40V – much higher than comparable parts.


Sumida announced extension of its class-D LPF series automotive power inductors.


High-temperature 150°C MLCC ceramic capacitors are required in the powertrain of internal combustion engines, but also in the EV powertrain systems. Samsung Electro-Mechanics released a technical note to address this application field.


The European Passive Components Industry Association (EPCIA) published its recent newsletter with European (EMEA) market development for passive components from 2019 to 2021.


The results of the May 2022 Electronic Component Sales Trend Survey (ECST) reported by ECIA delivered a positive sales sentiment in North America in May 2022.


Bourns releases new AEC-Q200 compliant high current shielded power inductors.


Stackpole introduces its latest addition 3637 high power shunt sensing resistor. The CSSH3637 is a 7W SMD current sense resistor offering a 0.3 milliohm resistance value with 100ppm TCR.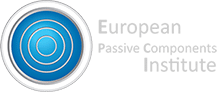 Copyright © 2022 European Passive Components Institute, All rights reserved.