MONTHLY NEWSLETTER



INDUSTRIAL PASSIVE COMPONENTS
Vishay introduced a new series of leadless NTC thermistor dies — contacted on the top and bottom — that provide designers with versatile mounting options.


Bourns Magnetics Product Line is introducing the new model SRN3015C series semi-shielded power inductor.


Bourns Custom Magnetics product line is introducing the new model PFB Power Line Communication PLC Transformers Series.


Bourns POWrFuse High-Power Fuse Product Line is pleased to debut the first two series of the POWrFuse™ High-Power Fuse product families, which are high power rating, industrial fuse links designed to UL 248 and IEC 60269 standards.


Coilcraft newly introduced mini power inductors offer a voltage rating of 40V – much higher than comparable parts.


TDK Corporation presents three new B8272* series of compact EPCOS SMT common-mode chokes specially developed for low-voltage applications.


KEMET is now introducing a new case size (C case) inside the T550 Series, axial leaded polymer hermetically sealed (PHS) tantalum capacitors, offering higher capacitance availability for different voltages rails.


Bourns Magnetics Product Line introduces the Model SM91602L LAN Gigabit Ethernet Transformer.


The results of the May 2022 Electronic Component Sales Trend Survey (ECST) reported by ECIA delivered a positive sales sentiment in North America in May 2022.


Bourns releases new AEC-Q200 compliant high current shielded power inductors.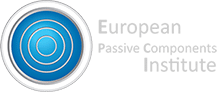 Copyright © 2022 European Passive Components Institute, All rights reserved.