MONTHLY NEWSLETTER



AUTOMOTIVE PASSIVE COMPONENTS
Murata Manufacturing Co., Ltd. ("Murata") has developed a tough and small radio frequency identification (RFID) module that can be embedded into tires in collaboration with world-leading French tire manufacturer Michelin. This module is an extremely small part with a size of 6 mm × 1 mm × 1 mm. Nevertheless, it is a product that will bring about innovation in the tire business. 


TDK now offers extremely compact and reliable CLT power inductors for ADAS/AD automotive power management.


This article published by Samsung Electro-Mechanics discusses electric vehicle technology using high voltage applications and high voltage automotive MLCC ceramic capacitors.


TAIYO YUDEN launches automotive metal power inductor MCOIL™ LCEN series achieving industry-leading DC superposition characteristics and a low DC resistance.


Sumida releases new SMD automotive grade metal composite inductors series with magentically shielded construction ready for high-reliability automotive applications.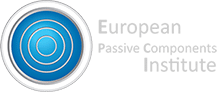 Copyright © 2022 European Passive Components Institute, All rights reserved.