MONTHLY NEWSLETTER



INDUSTRIAL PASSIVE COMPONENTS
Vishay releases new screw-terminal aluminum electrolytic capacitors featuring high CV values in smaller case sizes than previous-generation solutions, while providing increased ripple current and lower ESR.


The flying capacitor topology is a multilevel topology, that is an interesting choice especially for (but not limited to) the booster stage of a solar inverter. TDK technical note compares benefits of its CeraLink® anti-ferroelectric dielectric ceramic capacitors versus film capacitors in an example of solar inverters.


Snap ferrites have helped establish Würth Elektronik's renown as an EMC specialist. Now the manufacturer is launching another line of retrofittable interference suppression solutions with AEC-Q200 qualification, as required for the automotive industry.


TDK Corporation presents the EPCOS B72307S0* (StandarD S07 Compact Series) and B72310S0* (StandarD S10 Compact Series) series of extremely compact, leaded disk varistors.


Bourns Magnetics Product Line is pleased to introduce an additional LAN Transformer, the Model SM91078L.


Sumida releases CDEPH7212 SMD power inductors with flat wire windings that provide exceptionally low DCR resistance ideal for hyper scale data centers and PWM digital power supplies.


Bourns, Inc., a leading manufacturer and supplier of electronic components, introduced five new shielded power bead inductor series that feature high rated current, ferrite-based shielded construction and extremely low DC resistance from 72 to 440 nH.


Bourns Magnetics Product Line is introducing the model SRR1050HA series automotive shielded power inductors.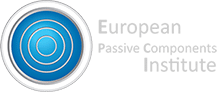 Copyright © 2022 European Passive Components Institute, All rights reserved.