MONTHLY NEWSLETTER



ALL PASSIVE COMPONENTS
EPCI and Passive Components Blog wishes you peace, joy, and prosperity throughout the coming year 2022 !


Live 25th Annual Components for Military & Space Electronics Conference CMSE 2022, April 26-28 2022 at Four Points by Sheraton (LAX), Los Angeles, California registration is now open! Call for presentations deadline extended to January 15, 2022.


High efficiency in consumer electronics has become increasingly important. This indicates lower resistance values on current sense resistors for battery and power management for portable electronics.


Samsung Electro-Mechanics announced on December 7 that it had appointed Chang Duckhyun, Executive Vice President of Samsung Electronics, as the new CEO.


Year 2021 brought number of challenges within the semiconductor industry and components supply chain challenges. Murray Slovick summarizes the trend and looking ahead for 2022 component market in his article published by TTI Market Eye.


Murata Manufacturing Co., Ltd. has developed highest capacitance 1206 size 16V automotive grade multilayer ceramic capacitor (MLCC).


Philippine Manufacturing Co. of Murata, Inc., will be switching all electricity consumed at the plant to renewable energy from January 1, 2022.


TDK Corporation has extended its range of bipolar DC high-voltage contactors to include the new HVC 43 (B88269X3**0C011) series.


The YAGEO group is pleased to announce completion of the Chilisin Electronics Corporation acquisition. The acquisition is expected to be finalized on January 5th, 2022.


Sumida is releasing new CDB38D38 line of high-efficiency power inductors. Like other types in the CDB series, this new surface mount inductor is magnetically shielded with low DCR tolerance and high efficiency low ferrite core loss design.


BorgWarner is strengthening its inverter capabilities and offerings through an exclusive licensing agreement with PolyCharge America, Inc., a startup company formed to deliver disruptive capacitor products.


Denis Zogbi, Paumanok Inc. discusses high reliability passive components trends and market in his recent article published by TTI Market Eye.


Skeleton's supercapacitors helped the port crane industry Maja Stuwadoors to lower its carbon emissions and improve its energy efficiency.


Vishay Intertechnology announced purchase agreement to acquire Barry Industries by December 31, 2021.


Ruggedized electrical double-layer energy storage Vishay capacitors received AspenCore World Electronics Achievement Award.


Advanced features make Model SM453229A-381N7Y 10/100/1000 Base-T Chip LAN Transformer ideal for EMI suppression and Ethernet-based applications.


General Motors (GM) is taking another major step forward in creating a strong, sustainable and scalable supply chain for electric vehicles. Today, VAC and GM announced plans for VAC to build a plant in the U.S. that will manufacture permanent magnets for the electric motors used in the GMC HUMMER EV, Cadillac LYRIQ, Chevrolet Silverado EV and more than a dozen other models using GM's Ultium Platform. The new plant would plan to use locally sourced raw materials.


In e-mobility, the temperature of all system units needs to be constantly monitored. The high currents result in losses with a corresponding generation of heat arising, in particular, at contacts. TDK has now developed a special-purpose high-voltage resistant temperature sensor for connectors.


In this webinar, YAGEO Group's Samuel Accardo (Field Application Engineer) explains the features and applications of new KEMET products launched from October to December (Q4) 2021. New products include SCR-XV and SCT-XV common mode chokes, KeMOD HV capacitor module, and more!


Hardware electronic designers can use a conventional fuse, or they can use a fusible resistor to protect their circuits. What will work best in the specific application?


Murata has co-developed a new generation of RFID modules with Michelin that are embedded into tires. The robust passive RFID tags require no external power supply and will continue to operate while being driven on for extremely high mileages.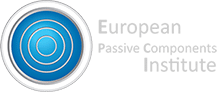 Copyright © 2022 European Passive Components Institute, All rights reserved.