MONTHLY NEWSLETTER



CAPACITORS NEWS
Live 25th Annual Components for Military & Space Electronics Conference CMSE 2022, April 26-28 2022 at Four Points by Sheraton (LAX), Los Angeles, California registration is now open! Call for presentations deadline extended to January 15, 2022.


Year 2021 brought number of challenges within the semiconductor industry and components supply chain challenges. Murray Slovick summarizes the trend and looking ahead for 2022 component market in his article published by TTI Market Eye.


Murata Manufacturing Co., Ltd. has developed highest capacitance 1206 size 16V automotive grade multilayer ceramic capacitor (MLCC).


Philippine Manufacturing Co. of Murata, Inc., will be switching all electricity consumed at the plant to renewable energy from January 1, 2022.


BorgWarner is strengthening its inverter capabilities and offerings through an exclusive licensing agreement with PolyCharge America, Inc., a startup company formed to deliver disruptive capacitor products.


Denis Zogbi, Paumanok Inc. discusses high reliability passive components trends and market in his recent article published by TTI Market Eye.


Skeleton's supercapacitors helped the port crane industry Maja Stuwadoors to lower its carbon emissions and improve its energy efficiency.


Ruggedized electrical double-layer energy storage Vishay capacitors received AspenCore World Electronics Achievement Award.


In this webinar, YAGEO Group's Samuel Accardo (Field Application Engineer) explains the features and applications of new KEMET products launched from October to December (Q4) 2021. New products include SCR-XV and SCT-XV common mode chokes, KeMOD HV capacitor module, and more!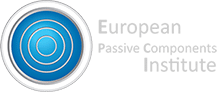 Copyright © 2022 European Passive Components Institute, All rights reserved.