MONTHLY NEWSLETTER



AEROSPACE & DEFENSE PASSIVE COMPONENTS
After careful review, the CMSE organizing committee decided to go all virtual for the 25th Annual Components for Military & Space Electronics Conference CMSE 2022, April 26-28 2022. Call for presentations deadline extended to February 18, 2022.


TDK Corporation presents the new EPCOS EP 6 cores B78416A* series of compact transformers for ultrasonic devices.


Exxelia, a leading designer and manufacturer of high-performance passive components and sub-systems, announces that it has completed the majority acquisition of Alcon Electronics on December 29th, 2021.


Paumanok Publications, Inc. Industrial Market Research has announced the publication of "High Voltage MLCC: World Markets, Technologies & Opportunities: 2022-2027 which analyzes the global market for multilayered ceramic chip capacitors for use in high voltage circuits (300 Volts to 100 kV). 


Electroninks expands line of particle-free conductive inks with new gold and platinum formulations. Broader selection of metals fuels innovation in product development and provides greater flexibility in manufacturing.


Peak Nano Films, a U.S.-based nanotechnology company, commissioned a cast nanolayered innovative capacitor films line for processing a breakthrough dielectric film for capacitor applications.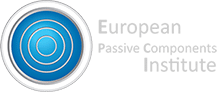 Copyright © 2022 European Passive Components Institute, All rights reserved.