MONTHLY NEWSLETTER



AEROSPACE & DEFENSE PASSIVE COMPONENTS
Gowanda Electronics introduces SMP0603 robust ceramic core chip inductors for power & RF applications ideal for Test & Measurement, Industrial, Medical, Control & Automotive Sectors.


The new KYOCERA AVX TWA-Y series of high-temperature wet tantalum capacitors now offer the world's highest CV/cc at 200°C at 125V.


Passive electronic components are in general not considered as sensitive to radiation. However is this a true also for latest technologies and materials ? doEEEt published results of radiation hardness evaluation of tantalum polymer capacitors.


CSAM testing can quickly identify voids and delamination in structures like MLCC ceramic capacitors. Knowles Precision Devices now offers 100% or partial sample scale non-destructive CSAM reliability inspection of its high reliability MLCC capacitors according to their blog post.


Smiths Interconnect's SMD resistors with outrigger heat sink increase power handling capabilities. The company announces addition of its CXH Surface Mount Outrigger Resistors and Terminations to its SpaceNXT HC Series of fixed and temperature variable attenuators.


The results from ECIA's January 2022 electronic component sales survey shows a solid signs to the new year towards stabilization of the component market.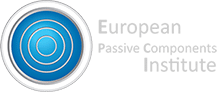 Copyright © 2022 European Passive Components Institute, All rights reserved.