MONTHLY NEWSLETTER



INDUCTORS NEWS
In this Würth Elektronik webinar Pablo Castillo & Carlos Farnos introduce high current flat wire inductors for automotive electrical car applications.


Bourns Magnetics product line is introducing the new automotive AEC-Q200 compliant model SRN3030HA, SRN4030HA and SRN5030HA series high temperature semi-shielded power inductors.


Würth Elektronik presents automotive SMD bar core choke WE-CHSA featuring high current inductance with excellent saturation behavior.


Würth Elektronik webinar presented by Jörg Hantschel discuss inductive wireless power transfer technologies in the field of autonomous vehicles and robots charging challenges.


This Würth Elektronik webinar presented by Martin Leihenseder & Simon Mark shows what is needed to build up a Single Pair Ethernet filter design on a PCBSingle Pair Ethernet with Signal Transformers.


Vishay releases new commercial and automotive grade IHLE® low profile, E-field shielded high current inductors.


Bourns Magnetics is introducing the new automotive grade model SRP1038WA and SRP1265WA series of robust high current shielded power inductors.


It is usually the case that EMC is not considered at the early stages of the design. This Würth Elektronik webinar presented by Mohamed Al-Alami looks into the implementation of good design practice to suppress EMI and optimize signal integrity.


Murata Manufacturing Co., Ltd. has newly commercialized the noise suppression SMD 0805/2012 common mode choke coil DLW21SH_HQ2 Series, which are suitable for use with high-speed interfaces used in automotive applications such as LVDS*, USB, and HDMI.


In this webinar Lorandt Foelkel, Würth Elektronik discuss magnetic components such as ferrites, inductors, beads and how they can suppress EMC noise issues in automotive applications.


Würth Elektronik hosts the virtual "WE meet @ digital days 2022" conference - A four-day-long event: profound electronics expertise for developers.


The results from ECIA's January 2022 electronic component sales survey shows a solid signs to the new year towards stabilization of the component market.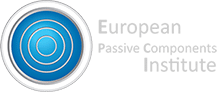 Copyright © 2022 European Passive Components Institute, All rights reserved.