MONTHLY NEWSLETTER



INDUSTRIAL PASSIVE COMPONENTS
In this Würth Elektronik webinar Pablo Castillo & Carlos Farnos introduce high current flat wire inductors for automotive electrical car applications.


Bourns Magnetics product line is introducing the new automotive AEC-Q200 compliant model SRN3030HA, SRN4030HA and SRN5030HA series high temperature semi-shielded power inductors.


Würth Elektronik webinar presented by Jörg Hantschel discuss inductive wireless power transfer technologies in the field of autonomous vehicles and robots charging challenges.


Vishay releases new commercial and automotive grade IHLE® low profile, E-field shielded high current inductors.


Bourns Magnetics is introducing the new automotive grade model SRP1038WA and SRP1265WA series of robust high current shielded power inductors.


Littelfuse, Inc., a global manufacturer of leading technologies in circuit protection, power control, and sensing, announced the Xtreme Varistor series that features high surge protection within small footprint.


Gowanda Electronics introduces SMP0603 robust ceramic core chip inductors for power & RF applications ideal for Test & Measurement, Industrial, Medical, Control & Automotive Sectors.


Group of researchers from Cornell University, US propose a new lead-free antiferroelectric dielectric material made from bismuth, iron and oxygen as a suitable candidate for next generation of high energy capacitors.


Coilcraft's new XGL6020 series of low-profile ultra low loss SMD molded power inductors reduce DCR by more than 40%.


The new KYOCERA AVX TWA-Y series of high-temperature wet tantalum capacitors now offer the world's highest CV/cc at 200°C at 125V.


Vishay Intertechnology releases AEC-Q200 automotive qualified haptic feedback actuator that offers high force density, HD capability, and compact size. The customizable device features a compact, two-piece construction, 12 V operation, and temperature range to +105 °C for rugged automotive environments.


Stackpole Electronics Inc. releases RMEF series general purpose lead-free thick film chip resistors 100% RoHS compliant without exemption.


TDK introduces its chip NTC thermistor simulation web tool, allowing users to find the best NTC thermistor based on circuit conditions and requested temperature sensing range.


Würth Elektronik hosts the virtual "WE meet @ digital days 2022" conference - A four-day-long event: profound electronics expertise for developers.


The results from ECIA's January 2022 electronic component sales survey shows a solid signs to the new year towards stabilization of the component market.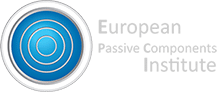 Copyright © 2022 European Passive Components Institute, All rights reserved.