MONTHLY NEWSLETTER



ALL PASSIVE COMPONENTS
This Würth Elektronik webinar explains EMC filters, its components, structure, features and design.


TANIOBIS announced its plans to invest into new facility to increase tantalum powder production in Thailand. The material will be used in electronic devices including tantalum capacitors and semiconductors.


Würth Elektronik publishes an addition to the automotive catalog of AEC-Q200 qualified parts.


New family of R&S LCX strengthens Rohde & Schwarz portfolio for high performance LCR impedance meters.


Texas Instruments (TI) releases buck regulators with integrated capacitors to suppress EMI and save board space.


Impact to Electronics of the COVID-19 and Ukraine war on the electronics industry in 2022 is discussed in article published by Semiconductor Intelligence.


Bourns announces two new AEC-Q200 compliant automotive grade SMD fuse families.


Vishay extends TNPV e3 series of high voltage thin film flat chip resistors with compact 0805 case size.


Paumanok Inc published market report on Passive Electronic Components: World Market Outlook: 2022-2027.


A high-energy, high-power density safe, and environmental friendly next gen supercapacitor, i.e., a device for storing electrical energy, will be developed by scientists from CATRIN at Palacký University Olomouc in cooperation with colleagues from Bar-Ilan University in Israel and the Italian capacitor company ITELCOND.


Euroquartz imagines a near future where the frequency sector experiences a significant reset, leading to the formation of new supply chains.


Panasonic releases high energy varistors for protecting automotive ECUs from load dump surges. The new varistors achieve the industry's highest level of heat resistance of 150℃.


TT Electronics adds space-saving compact potentiometers and encoders to its variable resistor portfolio for professional audio, industrial, and medical applications.


TDK Corporation expands its product lineup with a new chip varistor, type AVRH10C101KT4R7YA8, for automotive application Ethernet with strong resistance to ESD. Mass production will begin in March 2022.


Smoltek Nanotech Holding AB ("Smoltek") announces that after completed tests and evaluations, the company has now placed an order for a machine for future industrial manufacturing of carbon nanofibers to the company's ultra-thin CNF-MIM capacitors. 


TDK has decided to build new factory in Japan with the target to strengthen the development and volume production of groundbreaking electronic components by harnessing its core competences of magnetic material technology and plating technology. The new site will enable TDK to accelerate its customer service and launch new products quicker to the market.


Magnitude 7.4 earthquake caused casualties and damage in Japan including impact to the local component manufacturing plants. Some of the buildings and equipment were damaged and operations interrupted. Restoration work is under process expecting to restore operation within few days without significant impact to the component supply.


Würth Elektronik technology ambassador Lorandt Foelkel explains how to avoid EMI noise issues on long data cables with isolated power module that breaks ground loops.


The 25th annual SPDEI Trophies recognized KYOCERA AVX for the superior quality of its support for and collaboration with the French electronics industry, as measured by more than seven key criteria.


New Vishay Intertechnology automotive AEC-Q200 qualified hybrid wirewound charging resistor lowers component counts and costs in EV, HEVs, and PHEVs. The device delivers 10x higher energy absorption for pre-charge and discharge applications, than other component technologies in the same size.


TDK Corporation has expanded its tried-and-tested range of CeraLink® anti-ferroelectric ceramic capacitors. Previously, only large, ready-to-fit sizes were available. Now, smaller compact types with the classic chip design are included in the portfolio in order to increase the areas of application.


SABIC to launch at APEC 2022 40% thinner Elcres™ Htv150a film foil for further adoption of high temperature film capacitors in SiC inverter technology used in Automotive EV applications.


Samsung Electro-Mechanics' component business sales that includes MLCC and inductors approach close to 50%… Positioning itself as a core business unit. As MLCC demand and prices rise due to the influence of COVID-19, performance is expected to be good this year.


TDK Corporation announces the release of its newly developed SMD chip 0402 AVRF041A150MT242 and 0603 AVRF061D2R4ST532 notch filters with ESD protection function. Volume production of these devices will begin in March 2022.


The Bourns Multifuse Product Line is pleased to announce the expansion of its Model MF-LSMF Series High Power Surface Mount Polymeric Positive Temperature Coefficient (PPTC) Resettable Fuses.


Murata Manufacturing Co., Ltd. announced that its manufacturing subsidiary Izumo Murata Manufacturing Co., Ltd., located in Izumo City, Shimane Prefecture, Japan will begin construction of a new MLCC production building at its Iwami Plant (Hane) in March 2022.


LME London Metal Exchange halts Nickel trading on March 8 for few days after unprecedented 250% spike.


Advances in capacitor grade tantalum powder to higher charge capability (CV), higher purity, and higher voltage capability have enabled tantalum capacitors to reach higher energy density levels as described in Global Advanced Metals (GAM) article.


How does the wireless power transfer work? Würth Elektronik's webinar provides basic introduction into this topic including practical application examples.


Bourns Magnetics Product Line is introducing the new AEC-Q200 automotive compliant model SRP2010DPA series high current shielded power inductors with a compact and low profile design and a 1 mm maximum height.


Researchers at Chalmers University of Technology, Sweden, have developed a method that represents a breakthrough for how supercapacitors can be produced. Integrated micro-supercapacitors have been manufactured on silicon wafer using the CMOS-compatible process.


Littelfuse EV1K series fuse first to provide 1000Vdc automotive grade protection for next-gen passenger cars and commercial EVs. Ideal for EV power system applications requiring robust overcurrent protection in harsh environments.


Prediction of tantalum capacitor reliability at early stage of manufacturing can considerably save cost and time. Vladimir Azbel in his LinkedIn blog propose a method to predict the capacitor reliability based on tantalum anode assessment.


The HCSM2818 high current shunt resistors from Stackpole offers a 5 watt continuous power rating to maximize power handling in a given PCB area. The 2818 case size provides superior power handling while minimizing its PCB footprint.


This Würth Elektronik webinar presented by Lorandt Foelkel and Marco from Emzer is dedicated to design engineers and explain the basic strategy where to use a power line filter and common mode choke to solve conducted emissions using the strategy of separating differential (DM) and common mode (CM) components, choosing an optimum filter can be applied to past the tests.


The results of the February 2022 Electronic Component Sales Trend Survey (ECST) reported by ECIA delivered a positive upside from expectations measured in the January Survey.


KYOCERA AVX has reached a final agreement with ROHM Semiconductor, which will transfer all of its tantalum and polymer capacitor manufacturing lines and relevant intellectual property to KYOCERA AVX effective August 5, 2022.


SMP Sintermetalle Prometheus GmbH & Co KG (SMP) introduces energy efficient low-loss inductive components for environmental applications.


YAGEO group announced to launch new automotive anti-sulfur and anti-surge - AS series resistors, which are adopted for the application with high-power, high-pulse requirements under harsh environments.


Global Advanced Metals (GAM) declared conformant to minerals due diligence audit standard for twelve consecutive years.


Smoltek Nanotech Holding AB ("Smoltek") announces extension of evaluation agreement with a global capacitor manufacturer and progress on preparation of its CNF-MIM capacitors for volume manufacturing.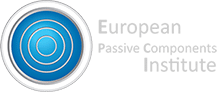 Copyright © 2022 European Passive Components Institute, All rights reserved.