MONTHLY NEWSLETTER



AUTOMOTIVE PASSIVE COMPONENTS
Würth Elektronik publishes an addition to the automotive catalog of AEC-Q200 qualified parts.


Texas Instruments (TI) releases buck regulators with integrated capacitors to suppress EMI and save board space.


Bourns announces two new AEC-Q200 compliant automotive grade SMD fuse families.


Vishay extends TNPV e3 series of high voltage thin film flat chip resistors with compact 0805 case size.


Euroquartz imagines a near future where the frequency sector experiences a significant reset, leading to the formation of new supply chains.


Panasonic releases high energy varistors for protecting automotive ECUs from load dump surges. The new varistors achieve the industry's highest level of heat resistance of 150℃.


TDK Corporation expands its product lineup with a new chip varistor, type AVRH10C101KT4R7YA8, for automotive application Ethernet with strong resistance to ESD. Mass production will begin in March 2022.


New Vishay Intertechnology automotive AEC-Q200 qualified hybrid wirewound charging resistor lowers component counts and costs in EV, HEVs, and PHEVs. The device delivers 10x higher energy absorption for pre-charge and discharge applications, than other component technologies in the same size.


Bourns Magnetics Product Line is introducing the new AEC-Q200 automotive compliant model SRP2010DPA series high current shielded power inductors with a compact and low profile design and a 1 mm maximum height.


Littelfuse EV1K series fuse first to provide 1000Vdc automotive grade protection for next-gen passenger cars and commercial EVs. Ideal for EV power system applications requiring robust overcurrent protection in harsh environments.


The HCSM2818 high current shunt resistors from Stackpole offers a 5 watt continuous power rating to maximize power handling in a given PCB area. The 2818 case size provides superior power handling while minimizing its PCB footprint.


The results of the February 2022 Electronic Component Sales Trend Survey (ECST) reported by ECIA delivered a positive upside from expectations measured in the January Survey.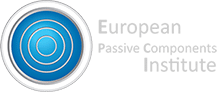 Copyright © 2022 European Passive Components Institute, All rights reserved.