MONTHLY NEWSLETTER



RESISTORS NEWS
New family of R&S LCX strengthens Rohde & Schwarz portfolio for high performance LCR impedance meters.


Impact to Electronics of the COVID-19 and Ukraine war on the electronics industry in 2022 is discussed in article published by Semiconductor Intelligence.


Vishay extends TNPV e3 series of high voltage thin film flat chip resistors with compact 0805 case size.


Paumanok Inc published market report on Passive Electronic Components: World Market Outlook: 2022-2027.


TT Electronics adds space-saving compact potentiometers and encoders to its variable resistor portfolio for professional audio, industrial, and medical applications.


New Vishay Intertechnology automotive AEC-Q200 qualified hybrid wirewound charging resistor lowers component counts and costs in EV, HEVs, and PHEVs. The device delivers 10x higher energy absorption for pre-charge and discharge applications, than other component technologies in the same size.


The HCSM2818 high current shunt resistors from Stackpole offers a 5 watt continuous power rating to maximize power handling in a given PCB area. The 2818 case size provides superior power handling while minimizing its PCB footprint.


The results of the February 2022 Electronic Component Sales Trend Survey (ECST) reported by ECIA delivered a positive upside from expectations measured in the January Survey.


YAGEO group announced to launch new automotive anti-sulfur and anti-surge - AS series resistors, which are adopted for the application with high-power, high-pulse requirements under harsh environments.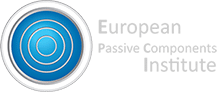 Copyright © 2022 European Passive Components Institute, All rights reserved.