MONTHLY NEWSLETTER



INDUSTRIAL PASSIVE COMPONENTS
Bourns announces two new AEC-Q200 compliant automotive grade SMD fuse families.


Vishay extends TNPV e3 series of high voltage thin film flat chip resistors with compact 0805 case size.


Panasonic releases high energy varistors for protecting automotive ECUs from load dump surges. The new varistors achieve the industry's highest level of heat resistance of 150℃.


TT Electronics adds space-saving compact potentiometers and encoders to its variable resistor portfolio for professional audio, industrial, and medical applications.


TDK Corporation has expanded its tried-and-tested range of CeraLink® anti-ferroelectric ceramic capacitors. Previously, only large, ready-to-fit sizes were available. Now, smaller compact types with the classic chip design are included in the portfolio in order to increase the areas of application.


The Bourns Multifuse Product Line is pleased to announce the expansion of its Model MF-LSMF Series High Power Surface Mount Polymeric Positive Temperature Coefficient (PPTC) Resettable Fuses.


How does the wireless power transfer work? Würth Elektronik's webinar provides basic introduction into this topic including practical application examples.


Bourns Magnetics Product Line is introducing the new AEC-Q200 automotive compliant model SRP2010DPA series high current shielded power inductors with a compact and low profile design and a 1 mm maximum height.


The HCSM2818 high current shunt resistors from Stackpole offers a 5 watt continuous power rating to maximize power handling in a given PCB area. The 2818 case size provides superior power handling while minimizing its PCB footprint.


The results of the February 2022 Electronic Component Sales Trend Survey (ECST) reported by ECIA delivered a positive upside from expectations measured in the January Survey.


SMP Sintermetalle Prometheus GmbH & Co KG (SMP) introduces energy efficient low-loss inductive components for environmental applications.


YAGEO group announced to launch new automotive anti-sulfur and anti-surge - AS series resistors, which are adopted for the application with high-power, high-pulse requirements under harsh environments.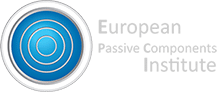 Copyright © 2022 European Passive Components Institute, All rights reserved.