MONTHLY NEWSLETTER



INDUCTORS NEWS
This Würth Elektronik webinar explains EMC filters, its components, structure, features and design.


Würth Elektronik publishes an addition to the automotive catalog of AEC-Q200 qualified parts.


New family of R&S LCX strengthens Rohde & Schwarz portfolio for high performance LCR impedance meters.


Impact to Electronics of the COVID-19 and Ukraine war on the electronics industry in 2022 is discussed in article published by Semiconductor Intelligence.


Paumanok Inc published market report on Passive Electronic Components: World Market Outlook: 2022-2027.


TDK has decided to build new factory in Japan with the target to strengthen the development and volume production of groundbreaking electronic components by harnessing its core competences of magnetic material technology and plating technology. The new site will enable TDK to accelerate its customer service and launch new products quicker to the market.


Magnitude 7.4 earthquake caused casualties and damage in Japan including impact to the local component manufacturing plants. Some of the buildings and equipment were damaged and operations interrupted. Restoration work is under process expecting to restore operation within few days without significant impact to the component supply.


Würth Elektronik technology ambassador Lorandt Foelkel explains how to avoid EMI noise issues on long data cables with isolated power module that breaks ground loops.


Samsung Electro-Mechanics' component business sales that includes MLCC and inductors approach close to 50%… Positioning itself as a core business unit. As MLCC demand and prices rise due to the influence of COVID-19, performance is expected to be good this year.


How does the wireless power transfer work? Würth Elektronik's webinar provides basic introduction into this topic including practical application examples.


Bourns Magnetics Product Line is introducing the new AEC-Q200 automotive compliant model SRP2010DPA series high current shielded power inductors with a compact and low profile design and a 1 mm maximum height.


This Würth Elektronik webinar presented by Lorandt Foelkel and Marco from Emzer is dedicated to design engineers and explain the basic strategy where to use a power line filter and common mode choke to solve conducted emissions using the strategy of separating differential (DM) and common mode (CM) components, choosing an optimum filter can be applied to past the tests.


The results of the February 2022 Electronic Component Sales Trend Survey (ECST) reported by ECIA delivered a positive upside from expectations measured in the January Survey.


SMP Sintermetalle Prometheus GmbH & Co KG (SMP) introduces energy efficient low-loss inductive components for environmental applications.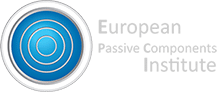 Copyright © 2022 European Passive Components Institute, All rights reserved.