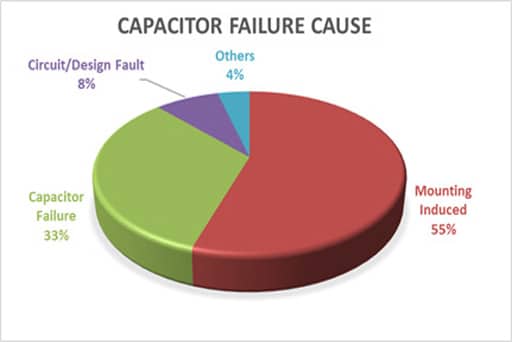 The aim of this assembly guidelines is to collect and summarize mounting recommendations of publicly available information from capacitor and resistor component manufacturers.
The survey has been prepared using the following publicly available manufacturers' specification and mounting guidelines:
AVX solid electrolytic capacitors; catalogue; www.avx.com
AVX MLCC capacitor catalogue; www.avx.com
Kemet Tantalum and MLCC guidelines; www.kemet.com
Kyocera MLCC technical guidelines; www.kyocera.com
Murata MLCC & resistors automotive and general guidelines; www.murata.com
Exxelia Film and MLCC capacitor guidelines; www.exxelia.com
Würth Elektronik GmbH & Co. KG, capacitors guidelines; www.we-online.com
Vishay tantalum capacitors and resistors; pdf catalogue; www.vishay.com
Panasonic surface mount resistors technical guide; www.industrial.panasonic.com
Stackpole Electronics Inc.; resistor guidelines; www.sei.com
KOA Speer, resistor guidelines; www.koaspeer.com
---
Introduction
Mounting related induced failures are the number one reason (over 55%) for the field application capacitor failure causes according to a EPCI end customer survey – see featured chart Fig.1. The capacitor component failures itself represents "just" 33% of the root failure causes. Thus, a careful evaluation of mounting guidelines and follow up in real assembly processes per the component manufacturers' recommendations shall be considered as a critical characteristic. This mounting guide survey report summarises recommendations of ESA QPL capacitor and resistor technology (including both QPL and other commercial manufacturers) and present some recommendations, tip & tricks for the best mounting practice.
Board mounting soldering processes itself shall be adapted to mutually contradictory requirements. On one hand, a certain minimum time in the molten solder to get a good wetting is needed and on the other hand, as short exposure to the molten solder as possible to minimize any risk of damage. The following items to be considered for selection of the proper mounting technique and its parameters:
many times mounting process is "the worst electrical and mechanical stress in the component's life"
thermal stress may damage parts by excessive heat
thermal stress may cause issues due to CTE mismatch
degradation by thermally driven wear out mechanisms – diffusion, migration, increase of chemical activity …
component history (packaging, transport) may play a key role
strong absorbed humidity and oxidisation impact
temperature exposure is directly proportional to the post reflow failures and ppm life failures
PCB construction, number of layers, technology used, required volume and soldering process repeatability
44 Views
0
---
---