source: EPCI
EPCI has released an overview and six month operation review report. The report provides an overview of the EPCI current projects and intended activities, capabilities, visions and targets for the near and longer term future. The report also consists of 6 month period review with a website visitor profile analysis and more information about the EPCI operation summary.
The EPCI overview and six month operation review report is available in the downloads section here.
Website attendance statistics: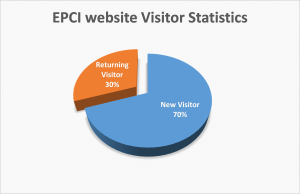 During the first 6 month of EPCI website operation (10/15 – 03/16) there are typically more than 400 new website visitors monthly with 30% regular return rate. The number of visitors is currently growing in about 25% each month.
In addition, LinkedIn EPCI site articles are typically seen by 300 to 500 people (typical net reach people rate is about 400).
The visitor profile:
The estimated visitor entity share is 7% government/agency, 35% end customers, 45% passive component industry, 10% universities and 3% others.
source: Google analytics, LinkedIn statistics