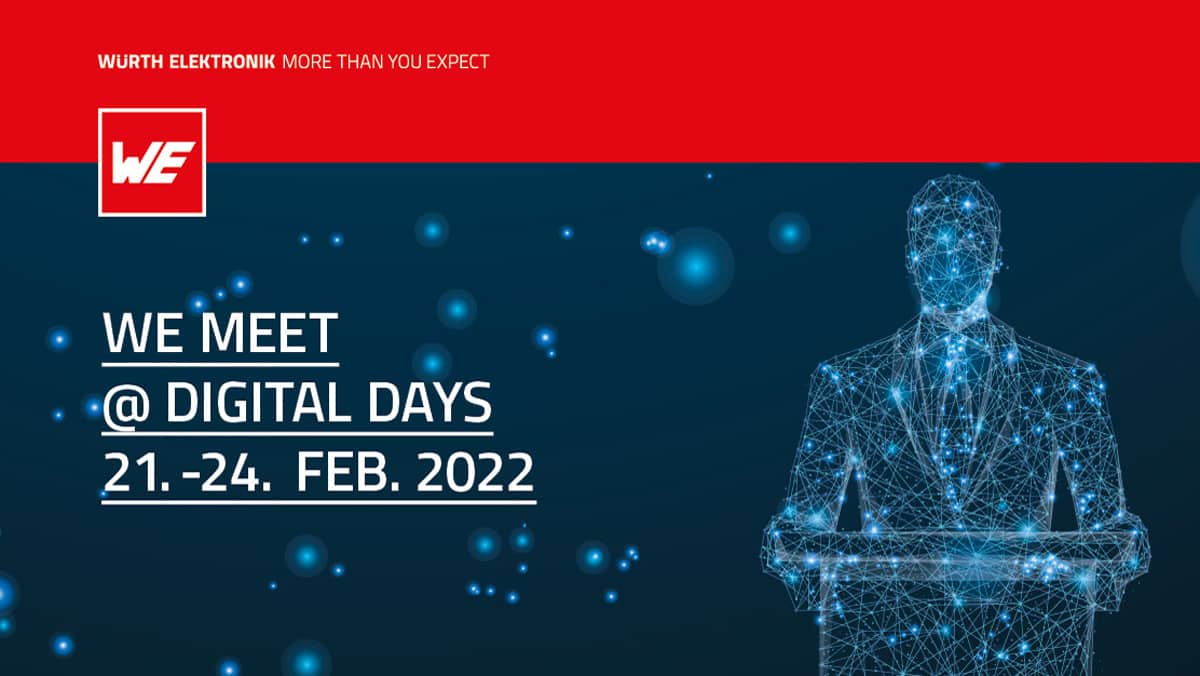 Date
Feb 21 2022
- Feb 24 2022
Expired!
Time
CET
9:00 - 17:00
Region
Europe
Würth Elektronik Virtual WE meet @ digital days 2022 Conference
Würth Elektronik hosts the virtual "WE meet @ digital days 2022" conference – A four-day-long event: profound electronics expertise for developers.
From 21 until 24 February 2022, for the fourth time Würth Elektronik will be hosting its virtual technical conference, the "WE meet @ digital days" event. On each of these days, from 9:00am until 5:00pm the electronics specialist will once again be presenting an extensive and varied programme, with high-quality presentations on EMC, power management and electromechanics, wireless power, LED technology, and many other exciting topics besides.
With the WE meet @ digital days event, Würth Elektronik offers developers a unique opportunity to gain formation for themselves on the current technological status and future developments in a compact format: this year's event will include a total of 27 presentations, spread over a four-day period. On top of this, participants will be able to draw a profit for their everyday operations from numerous in-depth practical tips, background information, and application examples from very different technical areas.
The presentations and papers will be hosted by the experts from the individual product divisions within the Würth Elektronik organization, for example Passive & Electromechanical Components, Power Modules & Optoelectronics, Automotive, Frequency Products, and Wireless Connectivity & Sensors, and Custom Magnetics. Informative guest presentations this year will be given by the companies Microchip Technology and onsemi on the aspects of Secondary-Side Compensation for Isolated Power Supplies and Meeting Challenging Efficiency Standards with Bridgeless Totem Pole Power Factor Correction.