source: Bussiness wire news
Technavio's latest report on the global low voltage ceramic capacitor market provides an analysis on the most important trends expected to impact the market outlook from 2017-2021.
The leading application segment of the global low voltage ceramic capacitor market is consumer electronics. This market has been witnessing robust growth since the advent of smartphones, especially in developing markets. Increasing demand for upgrading to high-speed applications such as video applications and developments related to machine to machine (M2M) and the Internet of things (IoT) contribute to the replacement demand for capacitors
The global low voltage capacitor market is forecast to grow at a CAGR of almost 5% through the forecast period, reaching a value of USD 14.75 billion by 2021. APAC is the market leader with a share of over 75% (2016 figures), and more than 85% of the incremental growth over the forecast period will originate from here.
The top three emerging trends driving the global low voltage ceramic capacitor market according to Technavio heavy industry research analysts are:
Rise in number of capacitors in smartphones
Growing demand for LEDs and need for improved ceramic capacitors
Increased sourcing from APAC
Rise in number of capacitors in smartphones
"The average number of capacitors used in a smartphone has been rising steadily with the increase in the functionality and complexity of smartphones. At present, on an average, 500 capacitors are used in a standard smartphone. The latest addition to the iPhone series smartphones, the iPhone 6, comprises over 700 capacitors. The increasing use of capacitors in smartphones is expected to impact the market in the forecast period significantly," says Anju Ajaykumar, one of the lead analysts at Technavio for tools and components research.
Low-voltage ceramic capacitors are being increasingly adopted in every component of a smartphone due to rising technological complexity, enhanced functionality, and the need for efficiency. This contributes to the growing number of capacitors in smartphones. The trend is expected to contribute significantly to the growth of the market with increasing demand for high-end smartphones
Growing demand for LEDs and need for improved ceramic capacitors
The need for advanced ceramic capacitors, especially multilayer ceramic capacitors (MLCCs) in light emitting diode (LED) lighting, is gaining momentum globally due to the growing need for power conservation, efficient lighting, and advanced lighting features. With the current advances in technology, vendors such as Murata Manufacturing are offering MLCCs with acoustic noise reduction and direct current (DC) smoothing for LED applications.
Additionally, the average selling price (ASP) of LED lighting sources is expected to decline substantially during the forecast period, which will lead to increased adoption. With the phase-out of incandescent lamps, governments of different countries are promoting the use and adoption of LEDs owing to their power-saving capabilities. This, in turn, will enable vendors to reduce the ASP of LEDs further during the forecast period.
Increased sourcing from APAC
Since the last few years, capacitor manufacturers have been slowly setting up their manufacturing hubs in APAC. In 2015, APAC housed the most number of top capacitor manufacturers. The top five vendors of low-voltage ceramic capacitors generate most of their revenue from APAC. This shift is mainly driven by the imports from low-cost countries in APAC such as China and India, which have had a substantial impact on the profit margins of traditional suppliers in Europe and North America.
"With the current trend of rising manufacturing costs, existing players are shifting their operations to countries where they can get cheap labor, raw materials, and other facilities. Additionally, several automotive companies in Western Europe outsourced their manufacturing operations to China and India. This trend of outsourcing manufacturing to APAC by original equipment manufacturers is expected to continue during the forecast period, which is further pushed by positive government initiatives," says Anju.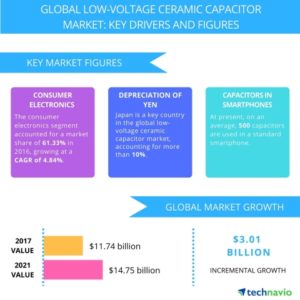 Global Low Voltage Ceramic Capacitor Market Key Drivers and Figures, source: Technavio