MONTHLY NEWSLETTER



INDUCTORS NEWS
TDK Corporation has announced the introduction of the new MLJ1608WG series of multilayer inductors. These compact SMD inductors are targeted at use in automotive Power over Coax (PoC) implementations. Mass production began in August 2022.


prof. Sam Ben-Yaakov in his video explains fractional and half turn transformer.


Vishay Intertechnology, Inc. introduced the first AEC-Q200 qualified IHSR automotive high temperature inductor with current ratings to 155 A in the 19.0 mm by 17.1 mm by 7.0 mm 6767 case size.


Würth Elektronik introduces its WE-BMS signal transformers for battery management systems which, thanks to their galvanic isolation of 4300 VDC/1 min and high operating voltage of up to 1000 VDC, are ideal for use in energy storage systems, E-bikes or E-scooters.


TDK Corporation presents the EPCOS E13EMHV series of compact SMD transformers with high dielectric strength for a wide range of DC-DC converter topologies.


This article written by Jeff Shepard discusses brief background on wire-wound inductors and then digs into the cost and application trade-offs associated with multilayer SMD thin and thick film inductors, flat inductors (including Litz wire with a rectangular cross-section), and foil inductors.


prof. Sam Ben-Yaakov in his video explains approximate and exact air gap effect in ferrite core inductors. The video describes the following effect and parameters: Fringing effectGaped ferrite coresPermeabilityMagnetic coresInductance


Are you interested what transformers' characteristics are important for your design? Have a look at this Würth Elektronik webinar partnered with Digi-Key Electronics.


TDK, a world leader in material technologies, manufacturing and electronic components, has recently developed and released a state-of-the-art, Qi compliant planar wireless power coil utilizing a unique copper patterning technology that provides multiple end-user benefits.


Dennis Zogbi, Paumanok Inc. publishes on TTI Market Eye his mid-year global market and materials update on passive electronic components.


European Components Distribution (DMASS) continues to grow double-digit through second quarter of 2022. DMASS reports Q2 increases of 33.4% in semiconductors and 19.6% in interconnect, passive and electromechanical components. Allocation continues, but selected relief visible. Future risk assessment becomes more difficult.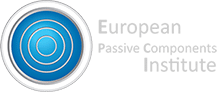 Copyright © 2022 European Passive Components Institute, All rights reserved.