MONTHLY NEWSLETTER



ALL PASSIVE COMPONENTS
This blog post originated from Knowles Precision Devices, explores the basics of lumped element filter design, general lumped element filter characteristics, and how lumped element filter designs limits can be customized to develop a wide variety of high-performance low-frequency filtering options.


Yageo and other Taiwan-based passive component suppliers have put increased focus on automotive applications amid slowdowns in consumer electronics demand, according to industry sources.


TDK Corporation presents the new B58101A0109A* (HP100) series of NTC thermistor based heat pump sensors for measuring the refrigerant temperature indirectly via the pipes' surface temperature.


Samsung Electro-Mechanics released its latest training video explaining ceramic capacitors MLCC Class II DC Bias effect.


Vishay introduced a new resonant transformer for inductor-inductor-capacitor (LLC) applications that features both the transformer and an integrated inductor in a single package.


Digi-Key Electronics has opened its highly-anticipated annual Back2School Prize Draw sweepstakes, which gives college students an opportunity to win prizes that empower them to use real-world engineering tools and resources. Submissions are open by October 28, 2022.


Würth Elektronik will be exhibiting at electronica 2022 from November 15 to 18, 2022. At its 400 m² stand 406 in Hall A5 at Messe München, the manufacturer of electronic and electromechanical components will have themed islands with personal consultation, where the focus will not only be on component solutions but also on individual design-in advice.


This technical blog article written by Raul Wang, KYOCERA-AVX Components Corporation, explains benefits and use of Aluminum electrolytic capacitors in LED lighting circuits and provide selection guidelines of electrolytic, hybrid and polymer aluminum capacitor technologies.


TDK announced it achieved its goal to reduce CO2 emissions by around two-thirds relative to sales in 2015.


Murata Manufacturing, Ishihara Sangyo Kaisha and Fuji Titanium Industry have signed a basic agreement to establish a joint venture to manufacture barium titanate for use in multilayer ceramic capacitors and other products.


Vishay announced that it has expanded its IHHP series of low profile, high current power inductors with three new devices in compact 0603, 0805, and 0806 case sizes.


Pulse Electronics expands its portfolio of high current, low DCR inductors with release of PGL6477 & PGL6478 series.


This Vishay session of LTSpice simulation of thermistors showing how thermistors can be designed-in in any temperature control application, together with other devices such as optoelectronics and transistors.


Skeleton Technologies, the global technology leader in supercapacitor energy storage, will supply supercapacitors to the metro units Spanish manufacturer CAF will provide to the city of Granada, Spain.


Bourns announced two new POWrFuse™ High-Power Fuse models, which are high power rating, industrial fuse links designed to ISO 8820-8 standards for the protection of high voltage accessory circuits in electric vehicles (EVs) and hybrid electric vehicles (HEVs).


Electronics Weekly revealed the shortlists for 2022 Elektra Awards, the industry's largest technology and business awards. The award also consists nine nominations in the category of passive electronic components and inter-connects.


nt analytics software leader that implements AI & Big Data technology, announced it has signed a new original equipment manufacturer (OEM) partnership with Siemens Digital Industries Software, which will now offer the Cybord AI visual analytics solution. Cybord platform enables 100% analysis of all components placed on PCBA. The solution implements AI & Big Data technology to ensure productivity, quality, counterfeit, and unique visual traceability.


Brent McDonald, TI system engineer of power supply design services discusses EMI conducted emissions challenges in electric vehicles with GaN-based OBCs in his article published by Analogue Design Journal.


TT Electronics announced its TFHP series thin film, high power chip resistors which combines high power and high precision in a single resistor, capitalising on aluminium nitride (AlN) ceramic substrate with nearly six times the conductivity of alumina.


This technical blog article written by Jacky Cui and John Lee, KYOCERA-AVX Components Corporation, explains benefits and use of supercapacitors in enterprise servers and smart meters.


Paumanok Inc published market report on Linear Resistors Market Outlook: World Markets, Technologies & Opportunities: 2022-2022.


TDK offers now rugged AC filter film capacitors with highest safety approvals (10,000 AFC and UL810).


This blog article from Knowles Precision Devices perform a deep dive on ceramic coaxial resonator filters basics, its construction, function and features.


North America electronic component sales sentiment plunges to lowest level since COVID collapse – more than two years. ECIA has published August 2022 data from its Electronics Component Sales Trend survey (ECST). The indices from August 2022 and Q3 2022 reveal expectations that go from bad to worse as the industry moves through the 2nd half of 2022.


 Atlas Magnetics, Co., "AM," announces a high-performance magnetic material to reduce the size of the magnetic components used in consumer and IoT electronic circuits effectively removing the inductor from the PCB in applications such as DC/DC power conversion. 


Learn about the aging behavior of resistors using temperature calculations and the Arrhenius equation to understand resistor drift and resistors stability in article written by Dr. Steve Arar and published by All About Circuits.


This technical blog article written by Jern Ng, KYOCERA-AVX Components Corporation, explains benefits and use of SMD Thermal Conductors for PCB heat management.


Chip resistor supplier Ever Ohms Technology, which debuted its shares on the main board of the Taiwan Stock Exchange (TWSE) on September 1, has said that sales generated from the automotive segment will drive its revenue growth over the next several years.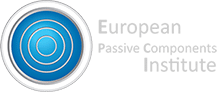 Copyright © 2022 European Passive Components Institute, All rights reserved.