MONTHLY NEWSLETTER



ALL PASSIVE COMPONENTS
From laboratory to prototype. Research in the field of energy storage supported by a prestigious European grant. Within a few years, a nitrogen-doped graphene nanomaterial developed by Olomouc scientists, which turned out to be very suitable for high energy supercapacitors, could be translated to practice.


YAGEO signs binding commitment to acquire Schneider Electric's industrial sensors business, Telemecanique Sensors.


TDK Corporation presents the new B78302A* series of compact EPCOS transformers with innovative E5 cores for ultrasonic applications.


SABIC, a global leader in the chemical industry, will introduce at the PCIM Asia Conference 2022 a thinner gauge of its ELCRES™ HTV150A dielectric film.


TDK Corporation has announced the introduction of its new VLS5030EX-D type power inductor (5.3 x 5.0 x 3.0mm (L x W x H)) as part of the VLS-EX-D Series of wound ferrite power inductors automotive power circuits.


Bourns Custom Magnetics Product Line is introducing its new Power over Ethernet (PoE) Transformer Series. The POE-EP, POE-PD and POE-FD Series flyback transformers are rated from 12 to 72 watts and offer an easy and reliable solution for powering remote devices.


YAGEO Group, the global leading passive component provider, releases automotive grade thin film, high precision chip resistor – RP Series.


Article by Cristina Belda published by Argus Media summarizes key items from presentation of Tomas Zednicek, EPCI European Passive Components president at T.I.C. general assembly in Geneva on 16-20th October 2022. The new generation of tantalum capacitors will need to provide confidence in a sustainable, conflict-free supply chain, research and development for novel nanomaterial and multi-sourcing to remain competitive and answer the future requirements.


Yageo and other passive component suppliers continue to experience a slowdown in customers orders amid sluggish end-market demand, according to Taiwan industry sources.


Bourns Custom Magnetics Product Line is introducing its Model BA60951CS Low Profile Flyback Transformer ready EV vehicle applications. This transformer is automotive grade, AEC-Q200 compliant and manufactured on a fully automated production line.


Murata Manufacturing president says to NIKKEI ASIA the U.S. and China economies are decoupling more quickly than ever after Washington rolled out its latest export controls on the Chinese chip sector. Murata is building up 'duplicate supply chains' to manage risks.


Coilcraft announced expansion of its XGL series of ultra-low loss shielded power inductors to one of the most popular case sizes 1010.


This blog article written by Pablo Blázquez, Frenetic power electronic engineer, discusses planar transformers for flyback and forward converters with a general overview of the basics and a comparison between planar and traditional transformers.


Continuing a decline that started in May 2022, the Electronic Component Sales Trend index dropped again as it fell from 86.0 in August to 82.3 in the September measurement.


This blog post originated from Knowles Precision Devices, explores the basics of resonators as microwave devices and dive deeper into specifications for ceramic coaxial and dielectric resonators specifically.


This technical blog article written by George Zhang, KYOCERA-AVX Components Corporation, explains benefits and use of varistors in automotive applications.


Murata is now fully prepared to participate in this year's Electronica 2022 (15th-18th November) - as the international electronic engineering community returns to Munich Messe once again, after a longer than expected absence.


TDK Corporation presents the B3271*H* series, new EPCOS low self-inductance DC link film capacitors that feature high energy and power density.


Skeleton Technologies, the global technology leader in fast charging for transportation, grid, automotive, and industrial applications, is delighted to officially launch its SuperBattery, and to unveil Shell as partner. Skeleton is joining a Shell-led consortium to offer electrification solutions for mining sites.


YAGEO Corporation announced that YAGEO has entered into an agreement with Heraeus Holding GmbH, a leading international family-owned technology group and Fortune Global 500 company, to purchase 100% shares of its subsidiary high-end temperature sensor leader Heraeus Nexensos GmbH in an all-cash transaction.


This Würth Elektronik webinar explains key power inductor parameters, and how they are impacted by different constructions, core materials and shapes.


Team of researchers from Kumamoto University in Japan and KYOCERA Corporation's Monozukuri R&D Laboratory introduced its research in ferrorestorable polarization in high energy storage BaTiO3 based ceramic capacitors.


Smoltek and YAGEO have begun the collaboration to commercialize Smoltek's ultra-thin capacitors for mobile phones.


Toray Industries, Inc., announced that it has decided to boost production capacity by 60% for Lumirror™ biaxially oriented polyester release films for manufacturing multilayer ceramic capacitors (MLCCs). The company will invest ¥8 billion in this upgrade at the Gifu Plant. The new facilities will go on line in 2025. 


Bourns is pleased to announce the extension of the model CSM2F series AEC-Q200 compliant current sense resistor families with additional sensing pins which connect to the customer's PCB by through-hole soldering. The three-pin current sense resistors designs aims to reduce the sensing error.


Researchers from State University of New York at Binghamton reporting in ACS Applied Materials & Interfaces a prototype circuit board with fully integrated electrical components such as disposable resistors, supercapacitors or transistors on sheet of paper that can be burned or left to degrade.


Knowles Precision Devices publishes Microwave Products Guide Handbook that includes general microwave product information and best practices for DLI brand microwave products, including both catalog commercial-off-the-shelf (COTS) parts and custom-designed part numbers.


KYOCERA AVX, a leading global manufacturer of advanced electronic components engineered to accelerate technological innovation and build a better future, has released the industry's first automotive-qualified multilayer varistors (MLVs) equipped with the company's patented FLEXITERM® soft termination technology, which has been widely employed on a number of automotive-qualified multilayer ceramic capacitors (MLCCs) for more than 15 years.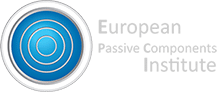 Copyright © 2022 European Passive Components Institute, All rights reserved.