The article explains construction, application and features of film and foil organic dielectric capacitors:
Film capacitors are essential electrostatic capacitors suitable for medium, higher voltage and higher current circuits. Unlike most other dielectric systems, film capacitors feature low loss factor at very low temperature.
Dielectric constant is not big, but they feature very high dielectric strength. In combination with long life and self-healing aging capabilities it makes them ideal choice for high voltage, high power systems. While we focus on the most common dielectric types there is a wide list of organic dielectric materials with different features. Overview can be seen in the article: What is a Dielectric Constant of Plastic Materials ?
The most common dielectric materials used in the construction of plastic film capacitors are polypropylene and polyester. Other dielectrics used in the construction of film capacitors include polycarbonate, polystyrene, polytetrafluoroethylene (PTFE), polyethylene naphthalate (PEN), polyphenylene sulphide (PPS), polyimide, and paper as discussed in next chapters in more details.
Polyester (PET)
Polyester has a high dielectric constant compared to polypropylene, and is one of the most widely used dielectric materials. This high dielectric constant allows construction of capacitors with small physical sizes. Polyester capacitors, also known as mylar capacitors, have good self-healing properties and are relatively cheap.
At high temperatures, polyester capacitors dissipate more power. This characteristic makes these capacitors unsuitable for high frequency and high current AC applications. Furthermore, polyester exhibits a significant capacitance change, up to 5%, as temperature approaches low or high-temperature limits. Due to this characteristic, polyester is an unsuitable material for constructing precision capacitors. Polyester capacitors are mostly used in general purpose board level applications such as blocking, bypassing, decoupling, and some noise suppression circuits.
Polypropylene (PP)
Polypropylene is commonly used in the construction of capacitors for high frequency AC applications. This dielectric material has a low dissipation factor, high breakdown strength, low dielectric absorption, high insulation resistance, and is readily available. These properties make polypropylene a dielectric material of choice for a wide range of applications including snubber circuits, high frequency AC systems, high voltage DC & AC systems, and high current DC applications.
Polypropylene capacitors can operate over a wide temperature range. Unlike polyester capacitors, the capacitance of a polypropylene capacitor decreases with temperature. Due to its temperature characteristics, polypropylene capacitors are commonly used to complement polyester capacitors. This is achieved by connecting a polyester capacitor and a polypropylene capacitor in parallel.
Despite its impressive properties, polypropylene has a lower dielectric constant than polyester. In addition, this material is not available in thin-gauge films. Compared to polyester, polypropylene is more expensive and is not a suitable material when physical size of a component is a key consideration.
Polyphenylene sulphide (PPS)
Polyphenylene sulphide has excellent temperature characteristics and is commonly used for constructing precision capacitors. The capacitance of these capacitors does not vary significantly with changes in temperature. PPS capacitors are commonly used to replace polycarbonate capacitors in electronic circuits. The dielectric constants of these two materials are similar, and both have high breakdown strength.
Polytetrafluoroethylene (PTFE)
PTFE capacitors, also known as Teflon capacitors, are low loss capacitors that offer excellent stability. PTFE has a relatively low dielectric constant, around 2.1, and it is, therefore, unsuitable for constructing components with small footprints. Teflon capacitors are suitable for high temperature applications and can be used in systems that expose components to temperatures of up to 200oC. PTFE capacitors have low capacitance values and are relatively expensive.
Polystyrene (PS)
Polystyrene capacitors exhibit extremely low loss and high capacitance stability over temperature, typically down to ±1% 0ver the range -55°C to +85°C. It's low dielectric constant of 2.1 makes in suitable for low capacitance, high stability applications such as timing circuits.
Polyimide (Kapton)
Polyimide has a high dielectric constant, around 3.4, and it is commonly used for constructing components for high temperature applications. Kapton capacitors can be used in systems that can expose components to temperatures of up to 250oC. Metallized polyimide capacitors have poor self-healing characteristics.
Polycarbonate (PC)
Polycarbonate has an average dielectric constant, around 2.7, and it is commonly used in the construction of capacitors for high temperature applications. Polycarbonate capacitors are low loss components that have good electrical characteristics over a wide temperature range. Polycarbonate capacitors were widely used in military applications. However, polycarbonate film has limited availability, and is not recommended for new designs.
The table below summarises some characteristics of common plastic film dielectrics.

Applications & Designs
There are various forms of film capacitors on market from SMD chip style up to high power high voltage types: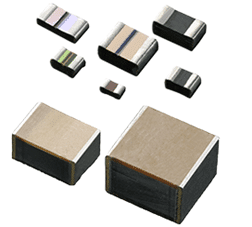 SMD Stacked Chip
0.01uF – 15uF
30 – 400V
up to 125°C
Medium Power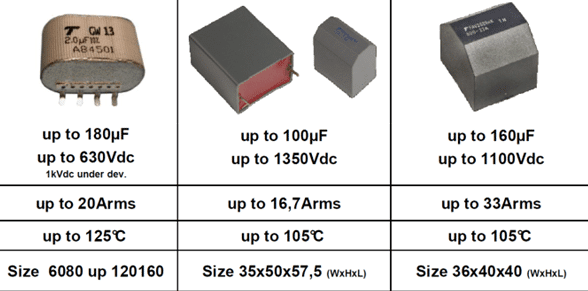 High Power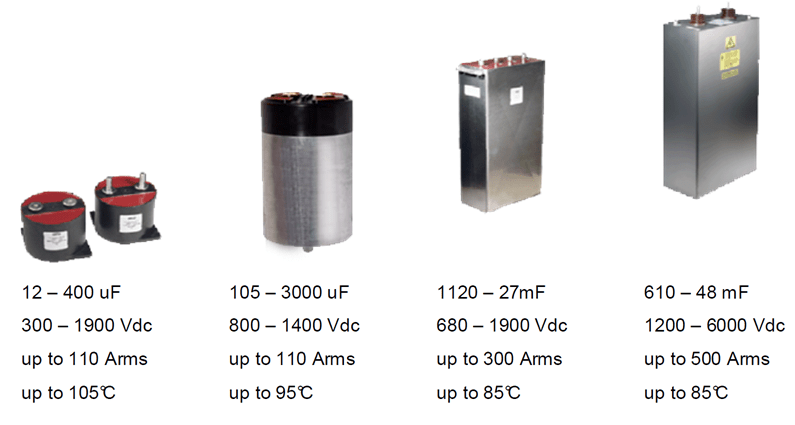 Some typical examples of film capacitor applications:
DC link in automotive or renewable energy generators
AC motor and light start
Medical defibrilators
Railway systems
Defence and space hardware
Energy distribution and power correction
X and Y safety capacitors
EMI noise suppression
Key Attributes of Film Capacitors: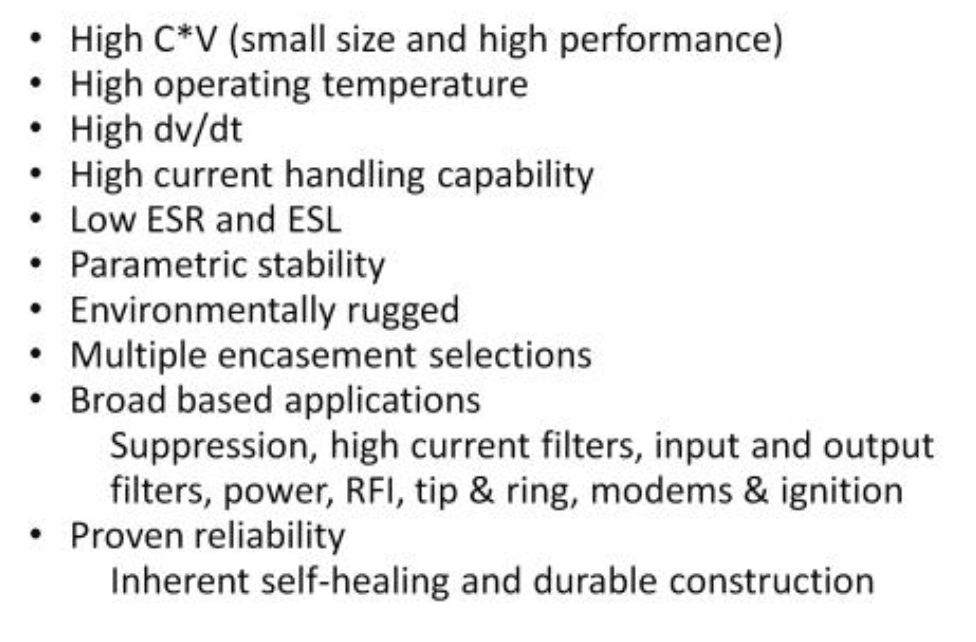 Polar Plastics Vs Non-polar Plastic Dielectrics
Dielectric properties of a polymer largely depend upon their structure. The structure determines whether a polymer is polar or non-polar and this in turn decided the electrical properties of the polymer.
In polar polymers (PMMA, PVC, Nylon, PC etc.), dipoles are created due to imbalance in the distribution of electrons. These dipoles tend to align in the presence of electric field. Hence, this creates dipole polarization of the material making these materials only moderately good as insulators.
While non-polar polymers (PTFE, PP, PE, PS) have symmetrical molecules and are truly covalent. There are no polar dipoles present in them and hence in presence of electric field does not align the dipoles. However, slight electron polarization occurs due to the movement of electrons in the direction of electric field, which is effectively instantaneous. These polymers have high resistivities and low dielectric constant.
Polar plastics have a tendency to absorb moisture from the atmosphere. Presence of moisture raises the dielectric constant and lowers the resistivity. With rise in temperature, there is faster movement of polymer chains and fast alignment of dipoles. This invariably raises the dielectric constant values for polar plastics.
Non-polar plastics are not affected by moisture and rise in temperature. Dielectric constant of various plastic materials can be found in the post linked in material folder of this lesson.

PET and PP totally dominate the film capacitor dielectric market. PP is a small and simple molecule. PET is "heavier" but also provides a stronger and higher tensile strength film that con be bi-axially oriented into very thin films.