MONTHLY NEWSLETTER



INDUCTORS NEWS
As part of the YAGEO Group and leading global electronic components supplier, KEMET introduces its new SCF-XV series of 1kV AC/DC AEC-Q200 automotive grade common mode choke. This series fulfills the growing need for high voltage automotive and harsh environment industrial EMI filtering applications.


Bourns Magnetics Product Line is introducing the new model SRN3015C series semi-shielded power inductor.


The new KYOCERA AVX component search tool allows users to quickly and easily explore an extensive selection of the company's proven portfolio of antennas, capacitors, circuit protection devices, filters, couplers, and inductors, as well as view and purchase available stock from its authorized distributor network.


Common-mode chokes are widely used noise suppression components for a variety of applications. For a better understanding of the main datasheet parameters and charts Würth Elektronik explains them in detail in this webinar.


Bourns Custom Magnetics product line is introducing the new model PFB Power Line Communication PLC Transformers Series.


TDK Corporation has introduced a thin pattern coil to support the wireless charging of next generation mobile devices. Mass production began in May 2022.


Coilcraft newly introduced mini power inductors offer a voltage rating of 40V – much higher than comparable parts.


TDK Corporation presents three new B8272* series of compact EPCOS SMT common-mode chokes specially developed for low-voltage applications.


Sumida announced extension of its class-D LPF series automotive power inductors.


The European Passive Components Industry Association (EPCIA) published its recent newsletter with European (EMEA) market development for passive components from 2019 to 2021.


Bourns Magnetics Product Line introduces the Model SM91602L LAN Gigabit Ethernet Transformer.


Bourns Magnetics Product Line is introducing the new Model HCTSM100304FL and HCTSM150102HL High Clearance / Creepage Distance Isolation Power Transformers.


The results of the May 2022 Electronic Component Sales Trend Survey (ECST) reported by ECIA delivered a positive sales sentiment in North America in May 2022.


Bourns releases new AEC-Q200 compliant high current shielded power inductors.


Würth Elektronik and Valens Semiconductor introduce a connectivity solution for medical imaging in unprecedented resolution. Würth Elektronik's HDBaseT transformer can isolate a connection with high bandwidth to enable medical image diagnosis and procedures with such high resolution.


Sumida is releasing new shielded SMD power inductor CDEPH84D92 featuring high power and low resistance, ideal for D-class amplifiers' low pass filter.


Würth Elektronik introduces its Summer 2022 new products in the areas of power inductors, power battery management transformers, RF components and signal transformers, optoelectronics, as well as MagI³C power modules.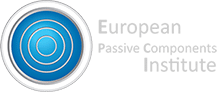 Copyright © 2022 European Passive Components Institute, All rights reserved.