MONTHLY NEWSLETTER



ALL PASSIVE COMPONENTS
Dr. Chema Molina and Lucas Nicieza from Frenetic presented in their webinar the general process to design an inductor including a live example of a design.


CAP-XX's supercapacitors combined with Energous' wireless power technology to enable maintenance-free supercapacitor based battery-free IoT devices that do not require battery replacement.


This article written by Dr. Chema Molina, Frenetic is continuation of his series of articles about Magnetics Design started by the article How to design an inductor.


This technical blog article written by Oliver Zimmermann and John McCarry, KYOCERA-AVX Components Corporation, explains the functional properties of MLCC ceramic capacitors as an alternative overvoltage and ESD protection.


Vishay releases new screw-terminal aluminum electrolytic capacitors featuring high CV values in smaller case sizes than previous-generation solutions, while providing increased ripple current and lower ESR.


The flying capacitor topology is a multilevel topology, that is an interesting choice especially for (but not limited to) the booster stage of a solar inverter. TDK technical note compares benefits of its CeraLink® anti-ferroelectric dielectric ceramic capacitors versus film capacitors in an example of solar inverters.


Knowles Precision Devices Blog article opens up discussion whether COTS components are ready for space use.


TDK blog article discusses use of power inductors in the electrification of cars including ADAS and EVs.


Snap ferrites have helped establish Würth Elektronik's renown as an EMC specialist. Now the manufacturer is launching another line of retrofittable interference suppression solutions with AEC-Q200 qualification, as required for the automotive industry.


Bourns is pleased to announce the addition of a new 3-electrode Gas Discharge Tube (GDT) series to its successful and innovative next-generation GDT voltage transient protection offering.


Murata's 4A, switched-capacitor achieves 99% peak efficiency: Industry first, Divide-by-3 and 2 ratios with dynamic selection.


KYOCERA AVX's new flagship facility in Nakhon Ratchasima, Thailand, features 1.2 million square feet of state-of-the-art design, manufacturing, testing, storage, and distribution space, meets FM Global standards, and features walkable ceilings, full electrical power supply redundancy, and column-free production areas. The manufacturing facility expands the company's ceramic and tantalum capacitors production capabilities.


This Würth Elektronik webinar discuss how to efficiently connect filter components and minimize parasitic to address EMC concerns. The video shows impact of PCB layout designs in practical application examples and LTSpice simulation.


Bourns Magnetics Product Line is pleased to introduce an additional LAN Transformer, the Model SM91078L.


Knowles Precision Devices blog explains requirements on MLCC ceramic capacitors in implantable medical applications such as Pacemakers and Defibrillators (ICDs) and what is a difference between these two devices.


Würth Elektronik has extended the product families of its MagI³C power modules with the MagI³C-FIMM Fixed Isolated MicroModule. It combines the features of an isolated power module with those of a MicroModule in an LGA-7 package and measures just 9 mm x 7 mm x 3.1 mm.


Researchers from SDU Southern Denmark University in Sonderborg, Denmark demonstrated a novel layer-by-layer technique to fabricate nano-scale polypropylene for precise control of nanocomposite capacitor dielectric morphologies in metallized film capacitors.


The KYOCERA AVX team will showcase the company's complete line of trusted and proven component solutions optimized for advanced automotive, industrial, and high-reliability applications, amongst others.


The latest DMASS reports Q3 2022 growth of 44.3% in semiconductors and 14.8% in interconnect, passive and electromechanical components. Selective availability problems remain, future looks increasingly unpredictable.    


UK-based Innervated Vehicle Engineering (IVe) is dedicated to enabling sustainable zero-emission freight by developing a hydrogen-powered van without compromising on the range or payload capacity. Skeleton's supercapacitors support the transient power demand and recuperation of braking energy in this innovative van design.


This blog article from Knowles Precision Devices explains what S-parameters can tell you about a filter's performance and show an example of how to plot a filter's S-parameters using a free open-source tool.


While incoming orders continue to normalize, sales of components distributors (according to FBDi e.V.) benefit from a strong summer quarter with 44% growth. Inflation and the weak euro contribute to surge.


Sumida releases CDEPH7212 SMD power inductors with flat wire windings that provide exceptionally low DCR resistance ideal for hyper scale data centers and PWM digital power supplies.


The new global MLCC ceramic capacitors part numbering system launching this November will maximize manufacturing synergies within KYOCERA AVX and the KYOCERA Electronics Components Group and make it easier for customers to search the entire brand portfolio.


The group company Smoltek Semi will together with, our collaboration partner, Yageo present the first planned joint product – ultra-thin capacitors for mobile phones – at the largest European electronic event next week. The goal is to be able to accept volume orders for these capacitors, based on Smoltek's patent protected nanotechnology, by the end of 2024.


MLCC capacitor market development indicates that the end is near for the inventory correction period in the Chinese spot market. Despite persistence of weak demand, decline in prices of consumer-spec MLCCs has eased during 4Q22 according to Trendforce report.


Murata's latest chip ferrite beads first to deliver high-current and high-frequency(1GHz) noise suppression in automotive systems.


In this video Dr Ali Shirsavar from Biricha demonstrates the impact DC bias loss has on the value of capacitance in class II ceramic capacitors. Ali shows how the resonant frequency moves as the DC level across the capacitor is varied.


In this video Dr Ali Shirsavar from Biricha talks about the relationship between the transformer interwinding capacitance and leakage inductance of a transformer.


Researchers at RISE Research Institutes of Sweden, Digital Cellulose Center in Norrköping have demonstrated 10F power paper supercapacitor technology.


CAP-XX releases ultra-small 5mm cylindrical supercapacitor to power IoT devices.


Murata Manufacturing Co., a leading Japanese manufacturer of ceramic passive electronic components, particularly Multi-layer Ceramic Capacitors (MLCCs), plans to invest JPY 45 billion (US$305 million) to boost MLCC production capacity in China's Jiangsu province, marking its largest investment, Nikkei reported.


The 26th Annual CMSE Conference and Exhibition is accepting presentations for April 25-27th 2023 event in Los Angeles.


prof. Sam Ben-Yaakov in his video discusses combined inductor and current sensor solution, its advantages and cons.


Researchers, in study published by Science Bulletin, prepared MXene nanosheets with in-plane ion channels created by chemical oxidation and used as electrodes to create self-healing Zinc-ion micro-supercapacitors (ZIMC) with exceptional anti-self-discharge performances.


Bourns, Inc., a leading manufacturer and supplier of electronic components, introduced five new shielded power bead inductor series that feature high rated current, ferrite-based shielded construction and extremely low DC resistance from 72 to 440 nH.


This technical blog article written by Kevin Cho, KYOCERA-AVX Components Corporation, explains the key parameters for designing ceramic capacitors in SMPS Circuits.


Bourns Magnetics Product Line is introducing the model SRR1050HA series automotive shielded power inductors.


A precipitous drop in sales sentiment for semiconductors dragged the overall component sentiment index down in October 2022 despite modest improvements in the Electro-Mechanical and Passive Component Indices according to ECIA survey on North American electronic component sales.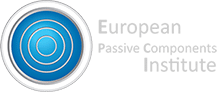 Copyright © 2022 European Passive Components Institute, All rights reserved.