MONTHLY NEWSLETTER



ALL PASSIVE COMPONENTS
This Würth Elektronik webinar series teaches the basics of PCB production and is aimed at PCB designers, buyers, electronics developers and students.


As part of the YAGEO Group and leading global electronic components supplier, KEMET introduces its new SCF-XV series of 1kV AC/DC AEC-Q200 automotive grade common mode choke. This series fulfills the growing need for high voltage automotive and harsh environment industrial EMI filtering applications.


Smoltek Nanotech Holding AB ("Smoltek") announces that the Group company Smoltek Semi AB ("Smoltek Semi") has signed a Memorandum of Understanding (MoU) with a global manufacturer of capacitors for the joint development of Smoltek's ultra-thin CMF-MIM capacitors and, provided that the development goals are achieved, mass production and sales via a 50/50-owned joint venture.


Vishay introduced a new series of leadless NTC thermistor dies — contacted on the top and bottom — that provide designers with versatile mounting options.


CAP-XX Limited, the leading manufacturer of ultra-thin prismatic and high-power cylindrical supercapacitors, today announced it is expanding its product offering to include Lithium-ion Capacitors (LICs).


Bourns Magnetics Product Line is introducing the new model SRN3015C series semi-shielded power inductor.


The new KYOCERA AVX component search tool allows users to quickly and easily explore an extensive selection of the company's proven portfolio of antennas, capacitors, circuit protection devices, filters, couplers, and inductors, as well as view and purchase available stock from its authorized distributor network.


Humidity and temperature have always been critical for film capacitors. Jon Rodrigues from Würth Elektronik discusses in this webinar impact of harsh environment conditions to film capacitors.


This blog article from Knowles Precision Devices explains background information on how waveguides and transmission line filters do what they do.


Team of researchers at Lawrence Berkeley National Laboratory (Berkeley Lab) and UC Berkeley have identified one energy-efficient route – by synthesizing a thin-layer version of a well-known BaTiO3 ceramic capacitor ferroelectric dielectric material whose properties are exactly what's needed for next-generation of microchips.


Common-mode chokes are widely used noise suppression components for a variety of applications. For a better understanding of the main datasheet parameters and charts Würth Elektronik explains them in detail in this webinar.


Bourns Custom Magnetics product line is introducing the new model PFB Power Line Communication PLC Transformers Series.


Murata Manufacturing Co., Ltd. has become the first company in the electronic component manufacturing industry to successfully create a closed-loop recycling system for polyethylene terephthalate (PET) film used in the manufacturing process of MLCC multilayer ceramic capacitors* to follow long-term vision to achieve 100% use of sustainable resources.


TDK Corporation has introduced a thin pattern coil to support the wireless charging of next generation mobile devices. Mass production began in May 2022.


Bourns POWrFuse High-Power Fuse Product Line is pleased to debut the first two series of the POWrFuse™ High-Power Fuse product families, which are high power rating, industrial fuse links designed to UL 248 and IEC 60269 standards.


Coilcraft newly introduced mini power inductors offer a voltage rating of 40V – much higher than comparable parts.


KYOCERA AVX, a leading global manufacturer of advanced electronic components engineered to accelerate technological innovation and build a better future, has received a Gold Level 2021 TTI Europe Supplier Excellence Award for the third consecutive year.


TDK Corporation presents three new B8272* series of compact EPCOS SMT common-mode chokes specially developed for low-voltage applications.


Sumida announced extension of its class-D LPF series automotive power inductors.


High-temperature 150°C MLCC ceramic capacitors are required in the powertrain of internal combustion engines, but also in the EV powertrain systems. Samsung Electro-Mechanics released a technical note to address this application field.


The European Passive Components Industry Association (EPCIA) published its recent newsletter with European (EMEA) market development for passive components from 2019 to 2021.


prof. Sam Ben-Yaakov in his video suggests way of modelling and LTSpice simulation of ceramic ferroelectric capacitors (such as BaTiO3 X7R MLCC most common types) under high DC BIAS Voltage and high capacitor current stress.


TE Connectivity (TE), a world leader in connectivity and sensors, has completed the acquisition of Kemtron Ltd. (incl. its subsidiary -Kemtron Sarl), a United Kingdom based company and leading provider of EMI/RFI shielding, environmental sealing, gaskets and components.


Exxelia, a global manufacturer of complex passive components and subsystems for harsh environments, is expanding its CUBISIC low profile hermetic aluminum electrolytic capacitor range with a HTLP (High Temperature Low Profile) version for temperatures up to +125°C.


Quantic Evans is introducing TDB series, newest radial form factor, rugged hybrid tantalum capacitors in a compact 1" X 1" square footprint.


This article written by Dennis M. Zogbi, Paumanok Inc., published by TTI MarketEYE elaborates on impact of copper price increase to MLCC ceramic capacitors and its supply chain.


ESA ESCC Executive publishes a list of components and technologies which have been, respectively, qualified and capability approved to the rules of the ESCC Specification System and the results certified by ESA. April 2022 issue 227 of the ESCC qualified part list has been issued.


In its eighth year, the Markt & Technik awards honor top performing three managers with a history of success from seven industry categories.


KEMET enhanced AO-CAP® aluminum polymer SMD chip capacitor A700 series product offering with the new material setting and manufacturing flow, allowing a specification expansion of endurance life at rated voltage and storage unbiased at 125ºC up to 3000h. 


KEMET is now introducing a new case size (C case) inside the T550 Series, axial leaded polymer hermetically sealed (PHS) tantalum capacitors, offering higher capacitance availability for different voltages rails.


Bourns Magnetics Product Line introduces the Model SM91602L LAN Gigabit Ethernet Transformer.


Bourns Magnetics Product Line is introducing the new Model HCTSM100304FL and HCTSM150102HL High Clearance / Creepage Distance Isolation Power Transformers.


May 2022 sales were the highest for May in the Yageo's history, according to the company data.


The results of the May 2022 Electronic Component Sales Trend Survey (ECST) reported by ECIA delivered a positive sales sentiment in North America in May 2022.


Bourns releases new AEC-Q200 compliant high current shielded power inductors.


Würth Elektronik and Valens Semiconductor introduce a connectivity solution for medical imaging in unprecedented resolution. Würth Elektronik's HDBaseT transformer can isolate a connection with high bandwidth to enable medical image diagnosis and procedures with such high resolution.


prof. Sam Ben-Yaakov in his video evaluates the effect of MLCC ceramic capacitors case size to its electrical parameters.


Vishay video explains Vishay NTC thermistor LTspice simulation in several designs of fire detector applications (level detection and rate of rise).


Use of industrial robots is more and more popular in wider range of applications. The robots however, has to comply with safety certification and solutions. Schaffner blog posted a note on EMI suppression challenges and use of EMC filters.


Sumida is releasing new shielded SMD power inductor CDEPH84D92 featuring high power and low resistance, ideal for D-class amplifiers' low pass filter.


Würth Elektronik introduces its Summer 2022 new products in the areas of power inductors, power battery management transformers, RF components and signal transformers, optoelectronics, as well as MagI³C power modules.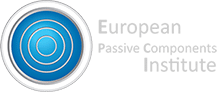 Copyright © 2022 European Passive Components Institute, All rights reserved.