MONTHLY NEWSLETTER



ALL PASSIVE COMPONENTS
Bourns Magnetics Product Line is introducing the Model MH1005 and MH1608-T Series High Current Ferrite Beads that are compact size, low profile, and low DCR with rated current up to 5 A in the Model MH1608-T series and 3 A in the MH1005 series.


HEICO Corporation announced that its Electronic Technologies Group ("ETG") entered into a put option agreement to acquire leading electronic component maker Exxelia.


Bourns POWrFuse High-Power Fuse Product Line is pleased to announce the Model PF-N Series POWrFuse™ High-Power Telecom Power Fuses, which are high power rating, industrial fuse links designed to the UL 248 standard.


Bourns Custom Magnetics Product Line is introducing the new Model PCS020 and PCS040 Series Current Sense Transformers.


Murata Manufacturing Co., Ltd. ("Murata") has developed a tough and small radio frequency identification (RFID) module that can be embedded into tires in collaboration with world-leading French tire manufacturer Michelin. This module is an extremely small part with a size of 6 mm × 1 mm × 1 mm. Nevertheless, it is a product that will bring about innovation in the tire business. 


The Analogue Devices article written by Jellenie Rodriguez and Mary McCarthy discusses the history and design challenges for a thermistor-based temperature measurement system and how it compares with a resistance temperature detector (RTD)-based temperature measurement system.


From July 18 to 24, the European Hyperloop Week took place in Delft and Hilversum, Netherlands (https://hyperloopweek.com). Würth Elektronik is a Gold Partner of the European Hyperloop Week for the second time.


This Vishay webinar is introducing resistors for EVs and other automotive applications. It discusses the development of the electric vehicle market, target applications, and basic resistor functions.


This Würth Elektronik webinar look at the transformers impact on conducted and radiated EMI in an application. The presentation look at practical construction techniques of transformer design for EMC potential emissions mitigation.


This article published by Samsung Electro-Mechanics discusses electric vehicle technology using high voltage applications and high voltage automotive MLCC ceramic capacitors.


This blog article from Knowles Precision Devices perform a deep dive on the different ways you can think about Q factor for the components going into filter or filter as a whole.


Würth Elektronik introduces a new class of EDLC supercapacitors (Electrical Double Layer Capacitor) with snap-in terminals.


Skeleton invests 220 M EUR in Leipzig area, Germany to build the world's largest supercapacitor factory in partnership with Siemens.


Murata introduces its new DFE21CCN metal alloy chip coil power inductor in compact size ready for automotive and power over coax applications.


Dave Jones from EEVblog released a video of his investigation into x class safety film capacitor failures.


This article written by Dennis M. Zogbi, Paumanok Inc., published by TTI MarketEYE, discusses aluminum electrolytic capacitor supply chain and lead time considerations in June 2022.


Vladimir Azbel published article discussing prediction of tantalum capacitor reliability by anode acceptability evaluation. This evaluation aim to improve yield and cost by early stage identification of suspicious parts and improve the capacitor reliability especially for mission critical applications.


In this application note, Würth Elektronik deals in detail with blocking capacitors, which filter out higher frequencies from the signal path by deriving RF signals superimposing a DC current against ground.


Paumanok Publications Industrial Market Research has released the 2022 version of "Capacitors: World Markets, Technologies & Opportunities: 2022-2027 ISBN # 0-929717-02-3 (2022)." 


Empower Semiconductor, the world leader in Integrated Voltage Regulators (IVR), has announced that it has expanded its E-CAP™ family of silicon capacitors with new technologies that offer further breakthroughs in density (up to 1.1µF/mm2) and performance. 


Vishay video explains thermistor function and its impact to analogue thermostat temperature controller function. The controller and thermistor LTspice simulation is modelling impact of the circuit configuration and its parameters to the temperature controller overall behaviour.


Capacitech's flexible cable-based supercapacitors (CBC) are capable of being integrated into cables that deliver power into AR/VR headset and improve its lifetime. Pairing the CBC and energy harvesting technology offers a pathway to extend AR and VR runtimes to meet the needs of today and tomorrow.


IMEC, a world-leading research and innovation hub in nanoelectronics and digital technologies, presented at the 2022 IEEE International Interconnect Technology Conference (IITC 2022) options to reduce the metal line resistance at tight metal pitches, mitigating the resistance / capacitance (RC) increase of future interconnects using direct metal patterning.


TAIYO YUDEN launches automotive metal power inductor MCOIL™ LCEN series achieving industry-leading DC superposition characteristics and a low DC resistance.


Abracon LLC, (Abracon) a leader in passive components, announced it has been acquired by Genstar Capital, a leading private equity firm focused on investments in targeted segments of the industrials, financial services, healthcare, and software industries.


Würth Elektronik is now launching an additional MCA multilayer chip antenna for the miniaturization of radio applications.


Global Advanced Metals (GAM) blog note discusses importance of tantalum element as a material linked closely with electronic industry that meets challenging requirement for the next generation devices. Tantalum is used as the core material for tantalum capacitors as well as in the semiconductor technologies and alloy additives.


In this video, prof. Sam Ben-Yaakov explains how to calculate inductance of a DC Biased inductor.


Bourns announces three new POWrFuse high-power industrial fuse product lines models PF-G, PF-J and PF-H(Ind).


Würth Elektronik extends its MagI³C next generation VDMM Variable Step Down MicroModules power module family with 36 V version.


Sumida releases new SMD automotive grade metal composite inductors series with magentically shielded construction ready for high-reliability automotive applications.


Bourns POWrFuse product line is pleased to announce two new series of POWrFuse™ high-speed fuse product families, which are high-power rating industrial fuse links designed to the UL 248-13 standard.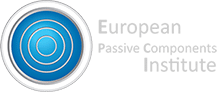 Copyright © 2022 European Passive Components Institute, All rights reserved.