MONTHLY NEWSLETTER



ALL PASSIVE COMPONENTS
Würth Elektronik extends its MagI³C power module family with 74.5 V versions suitable for 48 V Industrial Voltage Network Applications.


NIC Components Corp. is pleased to announce the expansion of the popular NMC-H series of SMD surface mount ceramic chip MLCC capacitors featuring voltage ratings from 200V to 5000V in NPO and X7R TCCs.


The video presents simulation of the analog hardware temperature compensation of a Wheatstone bridge of resistive strain gages.


ELOHIM, a South Korean high-tech silicon capacitor semiconductor R&D company, has partnered with a global company to develop an ultra-small size, high-density silicon capacitor for 5G applications. The company plans to use 5G smart devices as a starting point to expand its application areas to autonomous driving and artificial intelligence.


KIMS Korea Institute of Materials Science research team developed rare-earth-reduced permanent magnet that can achieve the commercial magnet (grade 42) level of performance while reducing the amount of neodymium (Nd), expensive rare earth, by about 30%.


VINATech VPC hybrid supercapacitors replace batteries in new, eco-friendly Samsung TV remote.


Robbie Paul and Josh Mickolio, Digi-Key Electronics discus trends in fast growing future electronic application segment - technology, connections, components and sensors that will be required by smart homes.


Vishay Intertechnology, Inc. introduced a new miniature position sensor with a small 12.7 mm outer diameter that delivers higher accuracy and resolution than competing devices in the same size while offering increased reliability and durability for the harsh operating environments of military and industrial applications.


Murata announces the availability of the DFE32CAH_R0 series of high current SMD metal power inductors for high-temperature applications of up to 150 °C for in-vehicle applications featuring major improvements in Isat and RDC specifications.


For electrically powered automotive vehicles, energy storage is one of the biggest challenges. Can supercapacitors become a sustainable alternative to batteries in electrical vehicles ?


TT Electronics launches its new WHS-UL high surge, UL-recognised, fusible resistor family.


Vishay Intertechnology introduces new R25 values for its automotive grade, glass protected NTC chip thermistors in 0603 and 0805 case sizes.


In this article published by Knowles Precision Devices Blog simplify filter selection by providing an overview and reference point for key five of the most commonly used filter technology specifications.


TDK Corporation presents a new series of EPCOS MKP-Y2 film capacitors for interference suppression at high-temperature requirements.


KYOCERA AVX, a leading global manufacturer of advanced electronic components engineered to accelerate technological innovation and build a better future, has released an interactive modeling and validation digital twin design tool for battery-powered, 5G and Massive IoT solutions.


Quantum memristor is a missing link between AI artificial intelligence and quantum computing. Researchers from University if Vienna have now demonstrated this new device.


Littelfuse, an industrial technology manufacturing company empowering a sustainable, connected, and safer world, announced it has entered into a definitive agreement with an affiliate of Sun Capital Partners, Inc. to acquire C&K Switches at an enterprise value of $540 million.


The article written by Dennis M. Zogbi, Paumanok Inc and published by TTI Market Eye discuss impact of Russia-Ukraine war to materials and passive electronic components supply chain.


Yageo announced on April 1 that a factory of its subsidiary Tokin in Sendai, Japan will be sold to Daiwa house, with a total transaction value of 9.075 billion yen.


YAGEO expanded the 01005 commercial high-frequency grade MLCC product range and capacity for X7R, X5R, and NPO to meet the demand for miniaturization of components in end electronic devices.


Murata Manufacturing Co., Ltd. ("Murata") released the Advanced Noise Filter Design Support Tool (the "Design Tool"), which features a sophisticated software tool function that supports the selection of a noise filter.


As an environmentally friendly alternative to classic combustion engines, electric and hybrid drives in buses represent today's e-mobility solution. These systems rely on classic, electro-chemical batteries as storage device for the electric drive energy. Technical memo written by Alexander Schedlock, Jianghai Europe Electronic Components GmbH provides brief introduction into benefits of hybrid lithium-ion capacitors (LiC) supercapacitor-battery energy storage power system for capacitor driven electrical bus.


Stackpole Inc. releases new addition of four terminal shunt resistors the meet accurate sensing requirements.


This article written by Dennis M. Zogbi, Paumanok Inc., published by TTI MarketEYE covers the global market for medical devices as described by the United States Food and Drug Administration (FDA) and the materials and electronic components that support them.


Schaffner, the internationally leading company in the field of electromagnetic compatibility, extends its range of ED100 and ED101 high performance common-mode chokes for lighting applications.


Low ESR equivalent series resistance tantalum capacitors reduce voltage drop during discharge, and increase capacitor ripple current ratings thus improving both performance and efficiency of circuit designs.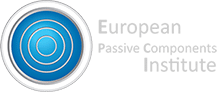 Copyright © 2022 European Passive Components Institute, All rights reserved.