Source: Panasonic product news
updated: Nov 11th
ZS series of Conductive Polymer Hybrid Aluminum Electrolytic Capacitors have been commercialized which is suitable for HEV and EV driven by advanced electrically motorizing.Claimed to push the boundaries of the hybrid polymer electrolytic segment with higher capacitance and ripple current ratings.
The ZS-Series not only expands the capacitance range and doubles ripple current capability, it is also rated at 4,000 hours endurance at 125 degrees C. The ZS Series brings new case sizes, keeping the same footprint as earlier capacitors (10mm).
Panasonic has introduced hybrid capacitors that are 16mm in length with this addition to the capacitor portfolio, with the automotive sector in mind, the ZS-Series covers 25 to 63V, with a capacitance range covering 560 microF, an even lower ESR down to 11mOhm with ripple current of 4.0A rms.
As well as saving space, the lower ESR and higher ripple enhance filter and DC-link circuits in automotive control and powertrain applications. The hybrid conductive polymer capacitors are effective replacements for the difficult to source, and soon-to-be-phased out, larger MLCCs, in space-constrained or higher frequency circuits.
All the ZS-Series capacitors are RoHS- and REACH-compliant and also comply to AECQ-200.
Features of ZS Series
Large current : 2.5 times that of the conventional ZC Series
Ripple current value ZC 63V : 1400mA  ⇒ ZS 63V:3500mA
Large capacitance : 1.8 times that of the conventional ZC Series Capacitance ZC 63V : 82uF  ⇒ ZS 63V:150uF
Achieving a larger current and capacitance than conventional products with the same board area decreases the quantity of capacitors used and contributes to reductions in required board space and weight.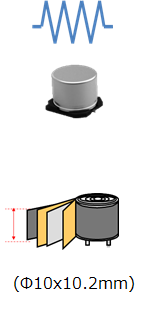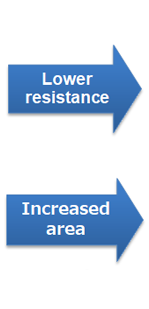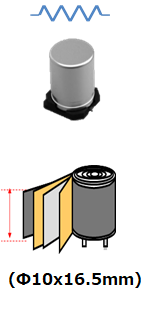 High vibration-resistance (Vibration acceleration 30G compatible)
Vibration acceleration resistance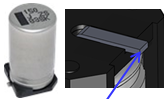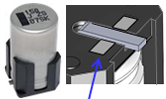 Contributing to the elimination of customers' need to take measures against vibration during mounting processes
Specification of ZS Series
Specification

| | |
| --- | --- |
| Category temperature range | -55 ℃ ~ 125 ℃ |
| Rated voltage range | 25 V.DC ~ 63 V.DC |
| Rated capacitance range | 150 uF ~ 560 uF |
| Size | Φ10×16.5 mm |
| Endurance | 125 ℃ 4000 h |
| Damp heat | 85℃ 85% 2000 h |
Case study of ZS Series
● 48V system (Inverter Power Supply) Space saving of board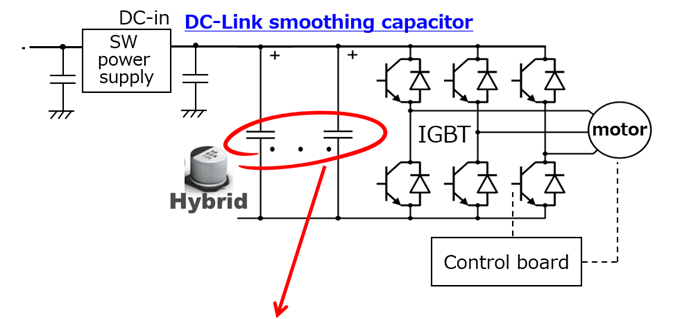 ZC Series
ZS Series
Item
φ10 x 10.2 mm
63V.DC / 82 μF
φ10 x 16.5 mm
63V.DC / 150 μF
quantity
21 pcs
9 pcs
Ripple current
Total 29.4 A
(1.4 A x 21 pcs)
Total 31.5 A
(3.5 A x 9 pcs)
Mounting area
100%
43%