source: EPS news
Chip sales for automotive systems and the internet of things (IoT) will grow 70 percent faster than total IC revenues between 2016 and 2021, according to IC Insights' 2018 Integrated Circuit Market Drivers Report. IC sales for automobiles and other vehicles are forecast to grow from $22.9 billion in 2016 to $42.9 billion in 2021, while revenues for IoT functionality will grow from $18.4 billion in 2016 to $34.2 billion in 2021.
The electronics content in vehicles continue to rise thanks in part to new technologies and advanced functionality particularly for safety systems. IC Insights forecasts automotive IC sales to reach $28 billion in 2017, up 22 percent from 2016. Double-digit growth will continue into 2018 with automotive IC sales reaching $32.4 billion, up 16 percent.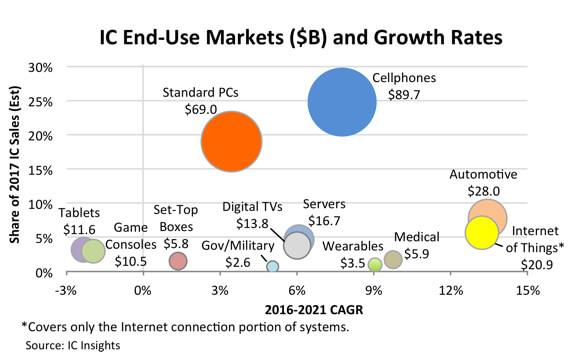 Spending on IoT continues to grow. The latest research from IDC forecasts global IoT spending will reach $772.5 billion in 2018, up 14.6 percent from 2017. This translates into a growing need for all types of electronic components from capacitors, resistors and inductors to sensors, controllers and memory devices that target IoT system applications.
IC Insights forecasts IoT-related IC sales to grow 14 percent in 2017, reaching $14.5 billion. This segment will increase by 16 percent in 2018, reaching about $16.8 billion. Optoelectronics, sensors-actuators and discrete sales in IoT are estimated at $6.4 billion in 2017 for a combined total of $20.9 billion for all semiconductors used in IoT connected systems.
Total IC sales will reach $434.5 billion in 2021, up from $297.7 billion in 2016, growing at a compound annual growth rate (CAGR) of 7.9 percent. Automotive and IoT IC sales over the forecast period is expected to outpace the total market with CAGRs of 13.4 percent and 11 percent, respectively.
The report also indicates strong growth rates for medical electronics and wearable systems over the five-year forecast period. ICs for medical electronics will reach $7.8 billion in 2021, growing at a CAGR of 9.7 percent, while wearable ICs will grow at a CAGR of nine percent, reaching $4.9 billion in 2021.
Cellphone IC sales, which account for nearly 25 percent of the IC market's total revenues, is forecast to grow at a CAGR of 7.8 percent over the forecast period, reaching $105.6 billion in 2021. In 2017, cellphone IC sales are forecast to grow by 24 percent, reaching $89.7 billion.
IC sales for PCs also are on pace to grow in the double digits. PC IC sales are forecast to grow by 17.6 percent in 2017, reaching $69 billion. Both cellphone and PC market segments for ICs will achieve their strongest increases since the 2010 recovery after the downturn in 2009, said IC Insights.
Both markets are expected to grow modestly next year. Cellphone IC sales will rise by eight percent, reaching $97.3 billion and PC IC sales will grow by five percent, reaching $72.6 billion.
IC Insights attributes dollar growth for ICs in cellphones and PCs (desktops and notebook computers) in 2017 to higher average selling prices (ASPs) for DRAMs and NAND Flash.
Mobile DRAM prices have risen by about 40 percent since the third quarter of 2016, according to TrendForce. The market research firm expects DRAM prices will remain high in 2018 due to limited production capacity expansion by suppliers. For NAND flash, demand has exceeded supply since the second half of 2016, resulting in price increases of up to 35 percent in 2017.  Tight supply for NAND flash started to ease in the fourth quarter with some price stabilization, according to TrendForce.
The biggest losers: IC sales for video game consoles and tablet computers. IC Insights forecasts negative growth for both end market segments over the five-year forecast period. IC sales for video game consoles are expected to reach $9.7 billion in 2021 at a CAGR of -1.9 percent, while IC sales for tablets will fall at a CAGR of 2.3 percent to $10.7 billion.