Source: Cressall news
Power resistor enclosures: seeking the answers
Cressall, has released an informative infographic explaining the essential questions to ask when designing an enclosure.
The guide aims to support design engineers as well as resistor end users across all industries to understand the requirements of their power resistor enclosure.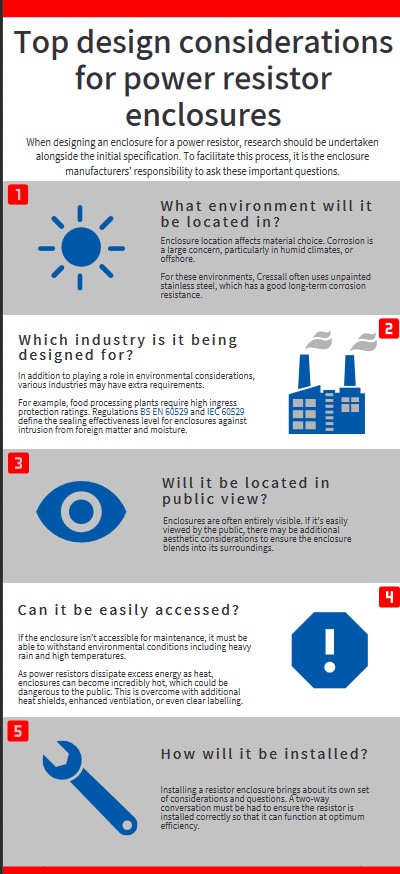 Power resistor enclosures provide a number of functions, including protection from harsh weather conditions, cooling and preserving the safety of the public. Each of these specifications will vary, dependant on the exact requirements of the client, and the resistor they purchase, however a full understanding is crucial to the design phase.
The research stage is usually undertaken when thecustomer provides an initial specification, but on some occasions, this does not happen, therefore it is the manufacturers responsibility to ask those important questions.
The infographic explains five questions that must be answered in order to design and manufacture an effective enclosure that meets all the required specifications. These queries cover the final resistor environment, industry challenges, aesthetic considerations, health and safety and choices around shipping and installation. By thinking about these points early, the final product can be designed to meet each and every requirement.
"We produced this infographic to provide design engineers, as well as the end user, a checklist of things to consider when they are planning their resistor and corresponding enclosure," said Andrew Keith, engineering director at Cressall Resistors.
"Sometimes enclosures can be left as an afterthought, but this will rarely achieve the most efficient, advantageous solution. Thinking about the enclosure at the same time as designing the resistor is crucial to ensuring the final product will meet all the requirements, reducing the risk of compromises having to be made."
Cressall works with clients worldwide to design and manufacture a range of resistors alongside enclosures, including dynamic braking resistors (DBRs), neutral earthing resistors (NERs) and harmonic filters. The full range includes specialised resistors for a number of sectors including rail traction, renewables, marine and offshore.