North American electronic component sales sentiment delivers encouraging turnaround at the end of 2022 according to ECIA Electronics Components Industry Association December 2022 survey results.
The overall electronic component average sales sentiment rebounded by 7.7 points following the discouraging November average of 58.1. With the year-end rebound to a component index average of 65.8 the continual downward trend of the past 20 months appears to have hit bottom. The relatively encouraging news extends into January of the new year with an index outlook of 80.0.
Semiconductor components scored the strongest rebound in December as it jumped by nearly 19 points to 73.3 Passive components are expected to see a major improvement in January with a rebound of 25. points to 80.2. The Electro-Mechanical/Connectors index predicts a jump in January up to 79.8. Looking toward January, the three major component index averages group closely around 80.
The Overall End-Market index makes two large leaps in December and the January outlook with a pickup of 18.1 and 17.4, respectively. This brings the End-Market index for January to 84.1, a dramatic turnaround from the depressing level of 48.6 in November. Most of the individual end-market measures report a healthy turnaround with Avionics/Military/Space strengthening its index measure above 100.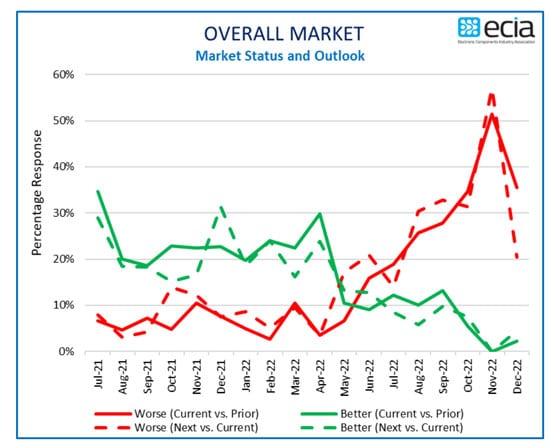 All other end-markets continue solidly below the threshold of 100. While the turnaround in index measures is positive news it should be remembered that any measure below 100 indicates declining month-to-month sales sentiment. Manufacturers replaced Manufacturer Representatives in reporting the strongest negative sentiment in all components sectors by a wide margin in December and January. On the other hand, Distributor sentiment in both months is significantly above average. The overall assessment of the Electronics Component sentiment shows the market pulling out of the depths of depression but still experiencing an extended period of declining month-to-month sales.
The reported product lead time trends continue to point to decreasing lead times with stable lead time pressure dominating most reports at an overall average of 67% in December. Increasing lead time averages now come in at an insignificant level of 2%. The hope is that this improving trend can be sustained as the industry moves through 2023.