Source: Electronic Products news
Electronic Products has announced the finalists for the 2018 Product of the Year Awards. These annual awards, now in its 43rdyear, recognizes outstanding products that represent any or all of the following qualities: a significant advancement in a technology or its application, an exceptionally innovative design, a substantial achievement in price/performance, improvements in design performance, and a potential for new product designs/opportunities. EP editors evaluated 100+ products across 10 electronic component categories.
Here are the Passive Components category finalists:
Cornell Dubilier: THA Series Thinpack Aluminum Electrolytic Capacitors

Cornell Dubilier Electronics, Inc. (CDE) has announced a significant new development in aluminum electrolytic technology. Its 85°C THA Series Thinpack capacitors are only 8.2 mm thick and 9 mm thick for the 105°C THAS Series. This is comparable in height to V-chip electrolytics, tantalums, and board-mounted axials but with much higher bulk-storage capability. A single THA/THAS capacitor can replace an array of SMT, axial or radial aluminum electrolytic, or solid tantalum capacitance arrays. That substitution can allow engineers to design smaller products,with simplified assembly and higher reliability. The THA/THAS Series design is radically new yet based on CDE's 20+ years of experience with MIL-grade flat electrolytics, said CDE. Re-engineered to be thinner and more cost-effective, it is a good fit for many of today's high-performance electronics. Unlike traditional cylindrical electrolytics, a THA/THAS capacitor has a sealed, laser-welded aluminum case to eliminate the need for space-wasting end seal gaskets for up to a 60% space reduction.
Littelfuse: PolySwitch setP Series Temperature Indicator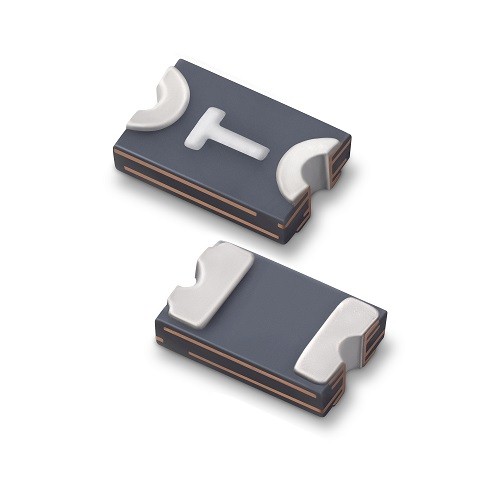 PolySwitch setP Series Temperature Indicator protects USB Type-C and USB Power Delivery charging cables from dangerous overheating faults. Unlike earlier temperature monitoring solutions like placing a PPTC or mini breaker on the power (VBUS) line, the power-independent setP is unique because it is designed to be located on the communication channel, where it senses the temperature increase and then leverages the inherent behaviors of the USB Type-C charging system to alert the charging port to shut down the power flow. Because it is placed on the communication channel rather than the power line, the setP does not contribute to power loss. The compact 0805 (mils) footprint of the setP Temperature Indicator makes it at least 50% smaller than solutions that require placing a device on the power line. Being much smaller allows it to fit more easily inside the connector. The same setP device can be used to protect cables designed for any power level, providing the same reliable protection at the lowest and highest possible levels allowed within USB-C.
TDK: CeraCharge Solid-State Rechargeable Battery (with ceramic)

TDK Corp. developed the first solid-state rechargeable battery in SMD technology, the CeraCharge, which is based on a solid ceramic electrolyte. Depending on requirements, the number of charge/discharge cycles range from several dozens to up to 1,000. With its compact EIA 1812 package (4.5 × 3.2 × 1.1 mm), it offers a capacity of 100 µAh at a rated voltage of 1.4 V. This battery is also capable of delivering currents in the order of several mA for short periods. Thanks to the SMD technology, placement of the battery is easy, and it can be processed using reflow soldering techniques, which, in turn, reduces the production cost of the end product. In contrast to most common technologies, CeraCharge is a solid-state rechargeable battery with no liquid electrolyte. The battery is based on a multilayer technology, similar to MLCCs. This means that a relatively high energy density and smallest volume are combined with the safety and high-volume manufacturing benefits of ceramic multilayer components. In addition, the use of a solid ceramic element as an electrolyte rules out the risk of fire, explosion, or leakage of liquid electrolyte. To increase the capacity and the voltage, any number of individual CeraCharge components can be connected in series and parallel. This opens up a wide range of possible applications — particularly in devices intended for the IoT. These include, for example, real-time clocks, Bluetooth beacons, wearables, or systems for energy harvesting.