Source: PRNewswire news
NEWARK, Del., Nov. 7, 2018 /PRNewswire/ — W. L. Gore & Associates, Inc. (Gore) is proud to announce that Chemours™ has awarded Gore the Global Plunkett Grand Prize for outstanding use of fluoropolymers for the company's GORE™ High Temperature Capacitors. With lead applications in the oilfield services and aerospace industries, Gore capacitors enable stable electronics performance in the harshest environments.
Powering Downhole Tool Reliability
Gore capacitors help oilfield service companies complete missions reliably, including those in demanding downhole environments. Unlike traditional high-temperature capacitors such as multilayer ceramic capacitors (MLCCs) or wet tantalum, Gore's capacitors do not exhibit a catastrophic failure mode when subjected to shock and vibration. With unique self-clearing, high-temperature film technology, Gore's capacitors can perform accurately in applications up to 200°C, reducing downhole tool failures and enabling predictive maintenance, allowing users to exchange capacitors without interrupting crucial operations.
Robert Haywood, Business Development Leader said, "Gore's innovation enables a film dielectric, known for reliability, to be used in a temperature range not previously possible, resulting in less risk of tool failure and reduced operating costs." Greg Hannon, Gore Technical Leader, said of the Plunkett award, "To earn this recognition during our 60th anniversary as an Enterprise and 80 years after the discovery of PTFE is particularly special."
Expanding into Aerospace
In addition to its applications in oilfield services, Gore is also working with companies in the aerospace industry to qualify its capacitors in support of aircraft designs that are shifting away from hydraulic and pneumatic systems in favor of a More Electric Aircraft (MEA) model. Example aerospace applications include electrical generators, fuel pumps, flight control actuators, landing gear, and braking systems. The Gore capacitors' high-temperature capability allows designers to increase system power while reducing (or, in some cases, even eliminating) the need for costly and large, heavy cooling systems. David Slupe, Innovation Leader, said, "Gore is excited to be part of future MEA programs and to support the industry in its goal of reducing aircraft CO2 and NOx emissions."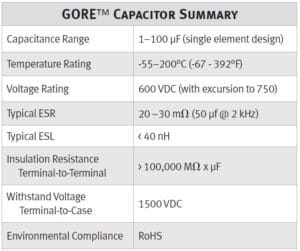 detail pdf datasheet can be seen here
About the Plunkett Awards
The Plunkett Awards are named after the discoverer of fluoropolymers, American chemist Dr. Roy J. Plunkett. The awards recognize Chemours customers' drive to develop solutions to complex problems through the use of chemistry. This high-temperature capacitor now joins Gore's ten previous Plunkett Award winners over the last 30 years.
From uses in airplanes, automobiles, and consumer electronics to components in life-saving medical equipment and the U.S. military, fluoropolymers have provided material solutions for manufacturers globally for the last 80 years. These awards recognize advancements in products and applications across the Chemours fluoropolymer portfolio, including Teflon™ fluoropolymers, coatings, fabric protector, and additives; Krytox™ lubricants and Viton™ fluoroelastomers; and Nafion™ ion exchange materials. Entrants are evaluated for the innovation and value of products, technologies, and applications enabled by Chemours portfolio of fluoropolymers.
featured image credit: GORE™ High Temperature Capacitors, W. L. Gore & Associates, Inc. 
GORE, GORE-TEX, and designs are trademarks of W. L. Gore & Associates.
Chemours™ is a trademark or registered trademark of The Chemours Company.
SOURCE W. L. Gore & Associates, Inc.
Related Links
http://www.gore.com