Jianghai Europe is introducing new 3rd generation lithium-ion hybrid supercapacitors boosting energy density.
The switch to fluctuating energy sources such as wind and solar is leading to an increased demand for energy storage and smart grid management.
The reason for increased use of supercapacitors instead of chemical batteries is due to the superior performance of the supposedly "old" capacitor technology.
Both supercapacitors (EDLC) and lithium-ion capacitors (LiC) have have better characteristics than batteries:
Large charge and discharge currents, excellent cycle stability to several millions of cycles, and intrinsic fire safety make them the ideal energy storage device for many applications.
Under the label "Energy-C", Jianghai has been developing and manufacturing EDLC and LiC products for more than 10 years. In response to the increasing demand, Jianghai has continuously intensified its research and development investments in the field of lithium-ion capacitor technology.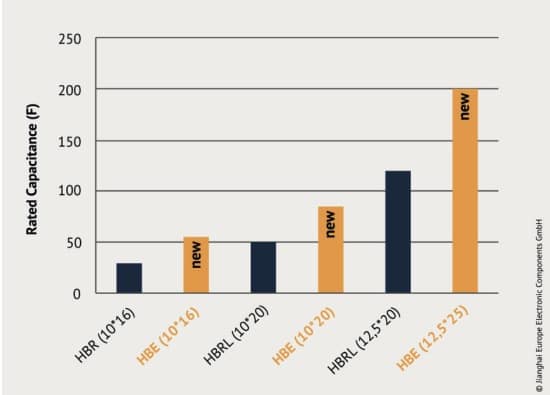 For instance, significant progress in energy density has been achieved by optimizing electrode materials, electrolytes and additives.
Compared with previous products, the energy density of radial type lithium-ion capacitors has almost been doubled, while keeping the technological advantages of long life time, rapid charge and discharge, and a wide operating temperature range.
Jianghai manufactures capacitors within short lead times and in high volumes, even when it comes to customized designs. The new generation of mass-produced LiCs is available now.