Circuit protection devices are the safeguard electronic circuits that protect from overvoltage, overcurrent, overtemperature, and ESD. The article provides an overview of the most common circuit protection devices and the latest released products in this field.
Circuit protection devices are safety components used in a variety of applications, ranging from smartphones and laptops to medical and wireless communications equipment. These components include electrostatic discharge (ESD) protection devices, surge protectors, fuses, and circuit breakers. They protect electronic circuits from overvoltage, overcurrent, and overtemperature events as well as safeguard against ESD with devices such as TVS arrays and varistors.
Over the past year, miniaturization has been a key trend in this market driven by compact product designs, particularly for IoT products. Protection devices for automotive Ethernet are also starting to become a requirement. Here is a selection of 10 protection devices for these applications, not in any particular order.
Protecting USB Type-C connectors from overheating
To protect USB Type-C and USB power delivery charging plugs from overheating, often caused by dust, dirt, and other debris, Littelfuse Inc. developed the PolySwitch setP series of digital temperature indicators. At 100°C, setP devices switch from low resistance to very high resistance, shutting down the flow of power.
One of the most recent members of the PolySwitch setP family is the SETP0805-100-CC, in a 50% smaller form factor than competitive devices. Packaged in an 0805 size, the setP indicators target consumer electronics, primarily for mobile and wearable devices equipped with USB Type-C cables (with a Type-C plug on each end) and USB Type-C chargers (such as cables fixed or captive to a charger "brick" for laptops).
The drop-in setP indicators keep cable surface temperatures safe for users, cause no disruption of the communications channel, and are compatible with assembly and molding operations used in cable and connector manufacturing thanks to a rigid structure. Both the original single-end SETP0805-100-SE and new SETP0805-100-CC are available as surface-mount devices in tape-and-reel packaging in packs of 4,000.
Ultra-low capacitance TVS arrays
ProTek Devices' ultra-low-capacitance transient voltage suppressor (TVS) arrays protect smartphones and other handheld wireless systems, USB interfaces, and Ethernet 10/100/1000Base T applications from electrical transients. The TVS arrays offer an ultra-low capacitance of 3 pF (typical) and provide a low leakage current of less than 0.5 µA.
The four new devices include the GBLC03HP and GBLC03CHP, with rated standoff voltages of 3.3 V, and the GBLC05HP and GBLC05CHP, with rated standoff voltages of 5 V. They are available in both unidirectional and bidirectional configurations and are rated at 750 W for an 8/20-µs waveshape.
These transient voltage suppressors can be used as replacements for MLV (0805) devices, said ProTek. They protect one power or I/O port and provide ESD protection greater than 25 kV. The maximum peak current holds at 35 A at 8/20 µs. The devices also offer a low clamping voltage.
The GBLCxxHP/CHP series is compatible with IEC standards 61000-4-2 (ESD) and exceeds Level 4 (20-kV contact and 25-kV air discharge). The devices are also compatible with IEC 61000-4-4 (EFT), IEC 61000-4-5 (surge), and ISO 10605 (ESD) and are RoHS- and REACH-compliant.
The devices are housed in a molded JEDEC SOD-323 package with an approximate weight of 5 mg and are provided on 8-mm tape and reel, per EIA Standard 481, in quantities starting at 3,000 units. They offer lead-free pure-tin plating (annealed) and a solder reflow temperature (pure tin — Sn, 100) of 260°C to 270°C. The operating and storage temperatures are –55°C to 150°C. Flammability rating is UL 94V-0.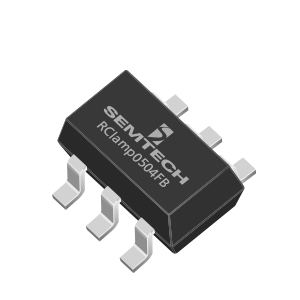 Transient voltage protection for data ports
Data ports in industrial and telecommunications equipment also need voltage protection. Semtech Corp. expanded its RClamp platform with a high-performance TVS array in a small form factor to protect industrial and telecommunications electronics equipment.
The four-line, 5-V RClamp0504FB offers ESD protection and surge immunity in an industry-standard six-lead SC-70 package. Exceeding industry standards for ESD immunity, the RClamp0504FB offers a 28-A Ipp surge rating and offers an extremely low typical capacitance of 1.1 pF, making the device well suited for use in high-speed differential interfaces.
The TVS array provides transient protection for high-speed data lines to IEC 61000-4-2 (ESD) ±30 kV (contact), ±24 kV (air); IEC 61000-4-4 (EFT) 40 A (5/50 ns), and IEC 61000-4-5 (lightning) 28 A (8/20 μs). It also provides 5-V bidirectional working voltage protection.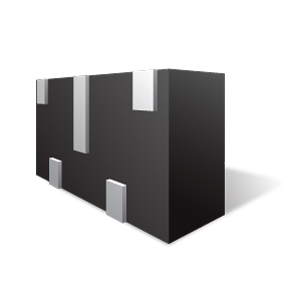 ESD and surge protection in harsh environments
For harsh industrial applications, Semtech expanded its TClamp platform for increased immunity against ESD, surge, and other overvoltage threats. It also addresses the need for a small size by packaging the TVS array in a 2.0 × 1.0-mm QFN package.
The two-line, 36-V TClamp3602P offers protection against both surge and ESD in a small, leadless package. The protection device is optimized for safeguarding industrial data interfaces such as RS-485 and CAN from dangerous transient threats while also minimizing capacitive loading on data interfaces, said Semtech.
Offering a 30-A (8 × 20-µs waveform) lightning surge immunity rating, the device also exceeds industry-standard requirements for ESD protection, achieving ±30-kV air and ±30-kV contact per the IEC61000-4-2 ESD standard. The TClamp3602P also provides a low line-to-ground capacitance of less than 4 pF.
Tiny resettable fuse for wearables
Resettable protection is also shrinking to safeguard even smaller devices like wearables. For example, Murata Manufacturing Co., Ltd. offers a positive-temperature-coefficient (PTC) thermistor, commonly known as a resettable fuse, in an 0201 package size for mobile devices, including smartphones and wearables. PTC thermistors help device manufacturers prevent short-circuits and improve product safety.
Murata claims that the PRG03BC181QB6RL PTC thermistor is the smallest in the market, measuring 0.6 × 0.3 × 0.3 mm. The PTC thermistor was developed to meet growing demand for smaller components to protect shrinking electronic devices. Leveraging Murata's process technology originally developed for its multilayer ceramic capacitors and other multilayer devices, the PRG03BC181QB6RL offers about an 80% smaller volume and 70% smaller footprint than the company's previous PTC thermistor in an 0402 package.
In addition, the product offers long-term stability thanks to Murata's unique ceramic materials, which contribute to improving the safety of electronic devices, said the company. The operating temperature range is –20°C to 60°C.
AEC-Q–compliant PPTC fuses
Bel Fuse-Circuit Protection expanded its OZCM series of resettable polymeric-positive-temperature-coefficient (PPTC) fuses with new 10-mA, 20-mA, and 30-mA variants, housed in small 0603 package sizes. PPTC fuses protect against overcurrent and overtemperature faults in electronic circuits.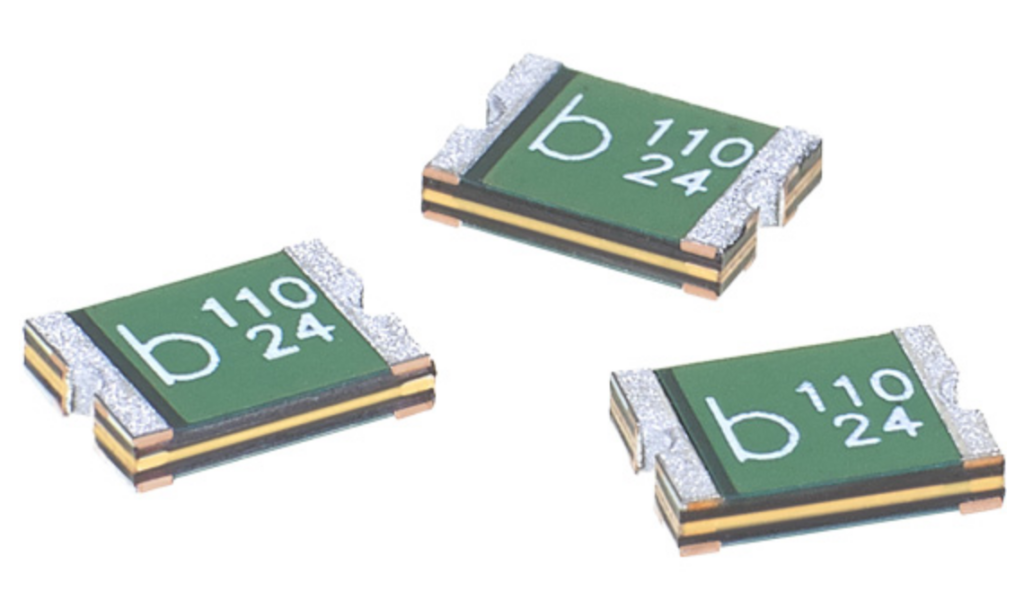 These surface-mount PPTC resettable fuses, which are also AEC-Q–compliant, have an operating temperature range of –40°C to 85°C. Other key features include an operating range of 10 mA to 200 mA, a max. current of 40 A, and a maximum voltage of 9 VDC to 15 VDC.
The 0ZCM Series offers a low DCR resistance and fast trip time that is required for today's automotive applications. They can also be used to protect game console ports, PDAs, digital cameras, streaming services, disk drives, CD-ROMs, and other USB peripherals, as well as provide plug-and-play protection for motherboards.
The 0ZCM Series is RoHS 2-compliant and halogen-free. Agency approvals include TUV (Std. EN/IEC 60738-1-1; EN/IEC 60730-1) and UL Recognized Component (Std. UL1434).
Automotive Ethernet protectors
Automotive Ethernet is becoming the connection network of choice between in-vehicle electronic systems thanks to its faster transmission speeds and growing applications, including advanced driver-assistance systems (ADAS) and autonomous driving.
Bel Fuse-Circuit Protection expanded its 0ZCF series of surface-mount PPTC resettable fuses with 3.3-A, 4-A, and 5-A options. Housed in a 2920 package size for automotive and Ethernet applications, the AEC-Q–compliant fuses have an operating range of 300 mA to 5 A, a max. current of 100 A, and a maximum voltage of 6 VDC to 60 VDC, with an operating temperature of –40°C to 85°C.
Featuring a fast trip time and high hold currents, the 0ZCF Series is well suited for low-voltage (≤60 V) automotive and Ethernet applications. These include a variety of applications: ADAS, audio, eCall, and cameras; battery management and on-board diagnostics; engine coolant systems and ventilator control; ignition system transmission and engine control, GPS connectivity, navigation, and V2X communication; infotainment and virtual dashboard(s); cabin lighting and headlights; plugs, USB ports, and cigarette lighter accessories; ECUs, braking, and parking sensors; and mirrors, windows, door locks, and car seats.
The 0ZCF Series is RoHS 2-compliant and halogen-free. Agency approvals include TUV (Std. EN/IEC 60738-1-1; EN/IEC 60730-1) and UL Recognized Component (Std. UL1434).
Miniature varistors for automotive ECUs
Also designed to protect automotive Ethernet applications is TDK Corp.'s new lineup of multilayer varistors. These varistors protect automotive electronic control units (ECUs) and components from ESD without affecting the high-speed communication between the ECUs.
Delivering a low capacitance and narrow tolerance for signal integrity at high data rates, and a high operating temperature range, TDK's new AVRH10C101KT1R1NE8, which is qualified to AEC-Q200, features a maximum operating voltage of 70 V and an operating temperature range of –55°C to 150°C.
The varistor features a low capacitance of 1.1 ±0.3 pF thanks to extremely precise multilayer technology, ensuring signal integrity even at the high data rates of automotive Ethernet, said TDK. In addition, the small IEC 1005 package (1.0 × 0.5 × 0.5 mm) offers a volume that is 75% smaller than existing components, according to TDK.
AVX multilayer varistors MLVs have many circuit protection performance advantages when compared to TVS diodes. MLVs have extremely fast response times of less than a nanosecond, which minimizes damage caused by transients.
MLVs are better at handling the temperature extremes experienced by electronic components within a vehicle. MLVs have no derating in performance over wide temperature ranges from -55° C to 175° C. TVS diodes derate significantly with temperature.
They also provide bi-directional protection in the on-state by clamping positive or negative transients. MLVs provide EMI filtering in the normal off-state in a circuit, which is important in communications buses. The low capacitance of MLVs minimizes signal distortion, which is an additional advantage in communications and data applications.
Battery protection
Also keeping with the miniaturization trend is the Model CB series of resettable thermal cutoff (TCO) devices from Bourns Inc. Touted as the company's smallest resettable TCO, these devices are designed for overtemperature and overcurrent protection of lithium-polymer and prismatic cells. The latest series is more than 26% smaller than Bourns's previous NR series with the same current-carrying capability.
These axial-leaded TCO devices control abnormal, excessive current virtually instantaneously, up to rated limits, said Bourns. The devices' low-profile 0.8-mm height and 2.5-mm width makes this series well suited for smaller batteries in smartphones and portable electronics, while the high current-carrying capability also makes it suited for next-generation notebook and tablet PC battery cells.
Offering resistance levels as low as 2.2 mΩ, the Model CB Series has current capabilities from 6 A up to 11 A at 60°C as well as a welding projection option. They are available in four trip temperature options of 72°C, 77°C, 82°C, and 85°C, with a ±5°C tolerance. The temperature options can be further narrowed on request.
The construction of the CB Series uses a high-corrosion-resistant bimetal mechanism to withstand most humid environments. The devices are RoHS-compliant and halogen-free with UL agency recognition.
Resettable eFuse protects circuits from overcurrent and overvoltage
Late last year, Toshiba Electronic Devices & Storage Corp. launched its first electronic fuse (eFuse) that can be used repeatedly. Traditional glass tube fuses and chip fuses protect power line circuits by "physically" shutting them down when they are in an overcurrent state and need to be replaced once broken.
The eFuse IC products use their own circuitry to shut power lines down when an abnormality occurs and can be reset and reused. These devices protect circuits and maintain power supply by clamping voltage and current at specified values, even when excess overcurrent or overvoltage is applied. Their overtemperature and short-circuit protection functions protect circuits by instantly shutting off in the event of extreme overheating or unexpected short-circuiting.
The series offers two types of products: an auto-retry type that allows the eFuse to automatically recover the circuit itself and a latch type that is recovered by an external signal.
The TCKE8xx series includes six products that support various functions for circuit protection in power supply lines. They can be used to help protect electronic equipment such as servers and laptop PCs, which have needed to handle increasingly higher withstand voltages and currents in recent years. They can also protect SSDs, game consoles, and augmented reality and virtual reality devices.
The original article was modified in its content
featured image source: Keko-Varicon